E4500 CPT: Camera Particle Tracking and Force Measurement Option
Enhances quantitative measurement capability in research involving optical trapping
E4500 Camera Particle Tracking (CPT) Technology
Optical trapping is a difficult and multi-faceted technique, involving lasers, microscopes, imaging systems, specialist software and complex opto-mechanical design.
It can take one to two years for a post-doc student to DIY build and calibrate a laser tweezer before they can begin meaningful experiments. Elliot Scientific turnkey optical trapping systems work "straight out the box," allowing research to begin from day one.
Current systems can only measure the force exerted on one particle, but CPT technology enables the collection of data from multiple particles at a higher rate. This allows for:
Convenient trap calibration by thermal analysis
Improved trap stiffness measurements
Multiple particle tracking within microfluidic channels
Optical Tweezers have become an invaluable tool for measuring and exerting forces in the microscopic world. The picoNewton forces that light can exert on minuscule particles have empowered scientists, particularly those in biomedicine, enabling them to perform important studies on single molecules, cells and colloids without inflicting damage.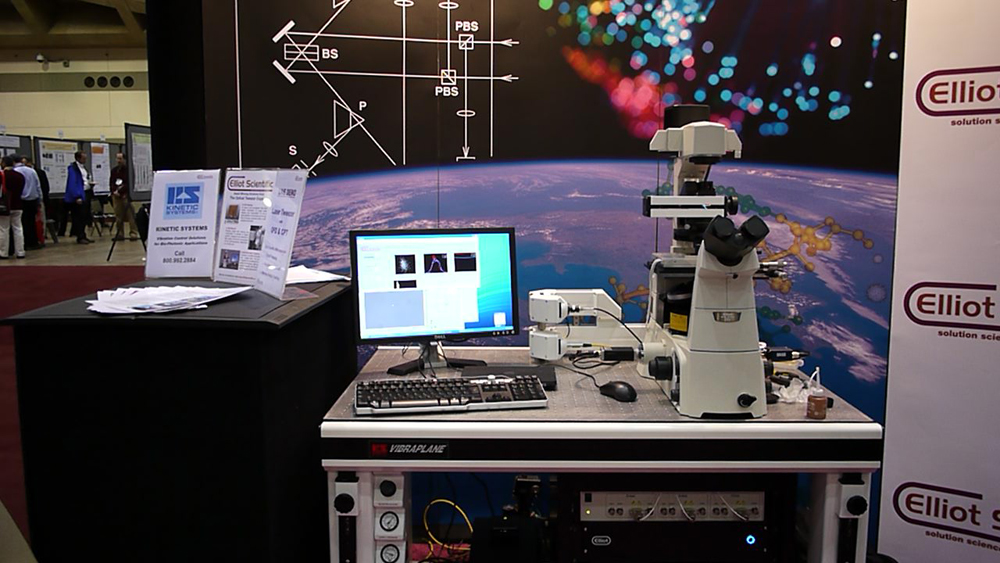 The E4500 Optical Tweezers with Camera Particle Tracking (CPT) was publically demonstrated for the first time at the Biophysical 55,
the exhibition and conference that took place in Baltimore on March 6th 2011.
In December 2010, following selection by the University of Glasgow, Elliot Scientific was the first company to benefit from the University's Easy Access IP initiative, a scheme designed to freely transfer some of the University's technical, scientific and medical intellectual property to research and industry for the benefit of all.
Application Notes and Papers
Elliot Scientific Optical Tweezers Application Note PDFs and accompanying Videos:
---

"We hereby acknowledge the contribution of the University of Glasgow to our business and research activities through the provision to us at no cost of a licence to use certain technology created and developed at the University of Glasgow."
---
Are you an academic on LinkedIn? If so, why not join our Optical Tweezers & Laser Trapping group.
| File Name | Size | Link |
| --- | --- | --- |
| ES 3x3 Grid Manipulation Video | 6.12MiB | Download |
| ES 5x5 Grid Manipulation Video | 6.8MiB | Download |
| ES HEK Adhesion Video | 6.85MiB | Download |
| ES HL60 Optoinjection 1 Video | 5.65MiB | Download |
| ES HL60 Optoinjection 2 Video | 8.39MiB | Download |
| ES RBC Array Video | 7.84MiB | Download |
| ES RBC Flip Video | 4.59MiB | Download |
| ES RBC Stretch 1 Video | 4.62MiB | Download |
| ES RBC Stretch 2 Video | 4.55MiB | Download |
| ES TRA 3x3 Array Video | 4.04MiB | Download |
| ES Tweezer Application Note 1 | 850.75KiB | Download |
| ES Tweezer Application Note 2 | 970.21KiB | Download |
| ES Tweezer Application Note 3 | 771.71KiB | Download |
| ES Tweezer Application Note 4 | 797.25KiB | Download |
| Optical Tweezers Brochure 2019 | 724.66KiB | Download |
Showing 1 to 15 of 15 (1 Pages)