alpha300 A AFM Microscope
Nanoscale surface characterisation
WITec alpha300 A Atomic Force Microscope
Features
Surface characterisation on the nm scale
Lateral resolution: down to 1 nm
Depth resolution: < 0.3 nm
Precise TrueScan™ controlled stages with scan ranges of:

30 x 30 x 20 µm
100 x 100 x 20 µm
200 x 200 x 20 µm

Comes with wide range of AFM modes
Unique cantilever technology for easy exchange and alignment
Operates in air or liquid
Non-destructive imaging technique with minimal, if any, sample preparation
Add confocal Raman imaging and Nearfield-Microscopy (SNOM)later if required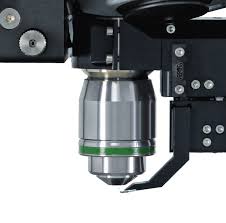 The alpha300 A Atomic Force Microscope is a reliable, high-quality nano-imaging system integrated with a research-grade optical microscope. It provides superior optical access, easy cantilever alignment, and high-resolution sample surveying.
These AFMs have been designed by WITec to work in combination with other imaging techniques, such as confocal Raman imaging. In fact all imaging techniques can be integrated within the same microscope system... its just a simple matter of rotating the microscope's turret to switch between the different methods.
WITec offer the following possible combinations with AFM: luminescence, fluorescence, polarisation analysis, bright field, dark field, SNOM, and Raman imaging.


Application examples from l to r: AFM topography image of a woodlouse sternal plate; Magnetic Force Measurement of PC hard disk; and digital Pulsed Force Mode image of fossilised bacteria
Operation Modes
Contact Mode & Lift Mode™
AC Mode (Intermittent Mode, Phase Imaging)
Digital Pulsed Force Mode (DPFM)
Magnetic Force Microscopy (MFM)
Electrostatic Force Microscopy (EFM)
Force Distance Curves
Lithography
Lateral Force Microscopy (LFM)
Kelvin Probe Microscopy
Chemical Force Microscopy (CFM)
Custom modes on request
Microscope specification
Research grade inverted optical microscope with 6x objective turret
Colour video system
LED white-light source for Köhler illumination of tip and sample
Manual sample positioning in x- and y-direction
Various piezo-driven scan stages with full capacitive feedback control
Active vibration isolation system
---