alpha300 RA Raman AFM Microscope
Combined chemical and nanoscale structural imaging in one system
WITec alpha300 RA Raman AFM Microscope
Features
Combines alpha300 R (Raman) and alpha300 A (AFM) into one microscope
Ideally suited for simultaneous Raman-AFM measurements
Strictly correlative: moving the sample between the measurements not necessary
Switch between the measurement techniques by rotating the objective turret
AFM provides surface characterisation on the nm scale...
...Raman delivers chemical imaging of the same surface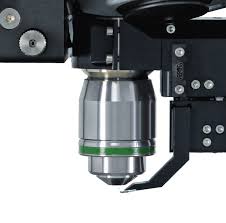 Although the alpha300 RA was the first integrated Raman AFM system on the market, it continues to set the standard for combined instrument configurations for correlative Raman-AFM microscopy.
The alpha300 RA incorporates the features of the alpha300 R Raman microscopy system for powerful chemical imaging, and adds the Atomic Force Microscopy of the alpha300 A for high-resolution nanoscale surface characterisation. This correlative Raman AFM imaging technique can deliver a comprehensive examination of a sample.


Combined Raman-AFM measurement of the same sample area of a multicomponent polymer blend
Switching between the imaging techniques requires just a turn of the objective turret, and the easy to use software automatically adjusts the imaging parameters so that the same sample area is inspected.
The alpha300 RA is also ideally suited for TERS (Tip Enhanced Raman Spectroscopy) whereby the Raman spectrum is mostly obtained from molecules a few tens of nanometres away from the AFM tip. A flexible sample illumination from either above, below, or from the side is an additional advantage.
Raman Operation Modes
Raman spectral imaging: acquisition of a complete Raman spectra at every image pixel
Planar (x-y-direction) and depth scans (z-direction) with manual sample positioning
Fibre-coupled UHTS spectrometer specifically designed for Raman and low light applications
Image stacks: 3D confocal Raman imaging
Time series
Single point Raman spectrum acquisition
Single-point depth profiling
Confocal Fluorescence Microscopy
Bright Field Microscopy
AFM Operation Modes
Contact Mode & Lift Mode™
AC Mode (Intermittent Mode, Phase Imaging)
Digital Pulsed Force Mode (DPFM)
Magnetic Force Microscopy (MFM)
Electrostatic Force Microscopy (EFM)
Force Distance Curves
Nano-Manipulation/Lithography
Lateral Force Microscopy (LFM)
Kelvin Probe Microscopy
Chemical Force Microscopy (CFM)
Current Sensing Mode
Microscope specification
Research grade optical microscope with 6x objective turret
CCD camera video system
High sensitivity monochrome video feed of sample & AFM tip in transmission
LED white-light source for Köhler illumination of AFM tip and sample
Manual sample positioning in x- and y-direction
Fibre coupling
Sample size: 120 mm (x- & y-axes), 25 mm in z-axis
Active vibration isolation system
Options and upgrades
Autofocus
Additional lasers
Additional UHTS-spectrometers (UV, VIS, NIR)
Automated sample positioning and measuring
Automated confocal Raman imaging
Automated multi-area and multi-point measurements
Ultrafast Raman imaging upgrade
Epi-fluorescence option
High sample adaptor
TrueSurface for Raman depth profiling
---
A number of papers have been published by scientists around the globe who have used a WITec Raman Microscope Imaging System within their research. Here are some examples: