alpha300 Ri Inverted Raman Microscope
Inverted confocal Raman imaging
WITec alpha300 Ri Inverted Raman Microscope
Features
Inverted beam path allows for liquid samples
Motorised sample stage
Bulky samples easily accommodated
Compatible with other microscopy techniques such as:

Fluorescence
Differential Interference Contrast (DIC)
Phase-contrast etc.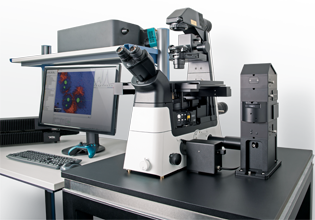 WITec's award-winning alpha300 Ri uses an inverted beam path to afford viewing and investigation from below. This is a great advantage when working with aqueous solutions or oversized samples.
With all the functionality of the standard alpha300 confocal Raman imaging microscope, the geometry of the alpha300 Ri will benefit scientists working in life sciences, geosciences, and biomedicine.


Correlative Raman Fluorescence Microscopy: Fluorescence DAPI Staining & Raman Imaging
Operation Modes
Raman spectral imaging: acquisition of a complete Raman spectra while scanning
Planar (x-y-direction) and depth scans (z-direction) with motorised sample positioning
Fibre-coupled UHTS spectrometer specifically designed for Raman and low light applications
Image stacks: 3D confocal Raman imaging
Fast and slow time series>
Single point Raman spectrum acquisition and depth profiling
Confocal Fluorescence Microscopy
Microscope specification
Research grade inverted optical microscope with 6x objective turret
CCD camera video system and/or fluorescence camera
High sensitivity monochrome video feed of sample & AFM tip in transmission
LED white-light source for Köhler illumination
Condensor lens for up to 7 different contrast techniques
Internal filter block revolver
Motorised sample positioning in x- and y-direction
Sample holder accommodates slides, Terasaki plates, dishes & counting chambers
Options and upgrades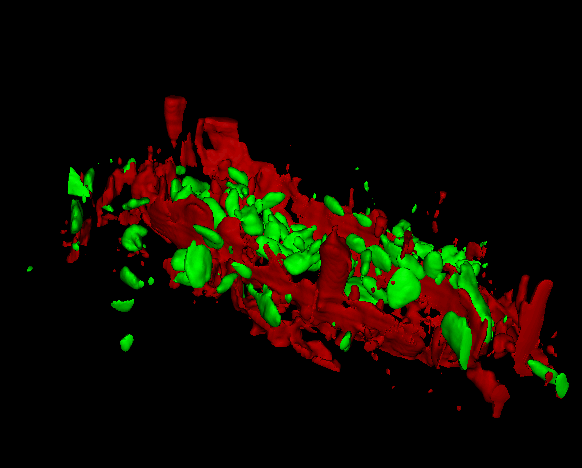 Autofocus
Additional lasers
Additional UHTS-spectrometers (UV, VIS, NIR)
Ultrafast Raman imaging upgrade
Time correlated single photon counting / fluorescence lifetime imaging (FLIM)
The animation shown right depicts a pressed banana pulp sample where starch grains are highlighted green, and cell wall components red.
---
A number of papers have been published by scientists around the globe who have used a WITec Raman Microscope Imaging System within their research. Here are some examples: