E901 - High Precision Left-Hand 1 inch/25 mm Mirror Mount
High Precision L/H 25 mm (1") Mirror Mount
E901
M6 mounting holes (x 3)
Nylon tipped clamping screw
Excellent long term stability
Soft mounting for optic protection
25 mm optic mounting (12.5 mm on request)
Hex drive adjusters with removable knurled knobs
Left-hand (E901) and right-hand (E902) versions
Ultra-stable base with proven laser alignment performance
Uses unique 0.20 µm pitch highest quality hand-lapped adjusters with ~127 turns/inch thread
The E900 series precision kinematic mirror mounts use the highest quality hand-lapped adjusters to provide smooth and accurate adjustment for critical laser and optical alignment.
The 0.20 pitch (approx 127 TPI) threaded screws provide a very high degree of sensitivity and control, and complement the excellent long term stability of the base.
Ease of use is enhanced by the provision of both a hex drive socket and a removable knurled knob. A nylon tipped locking screw positively locates the mirror optic against two compliant pads which minimise the stress applied to the optical substrate.
To improve access in confined spaces, both left-hand (E901) and right-hand (E902) versions are available.
Specifications
Mirror size 1" / 25 mm diameter
Angular range ± 7.5°
Angular resolution < 0.001°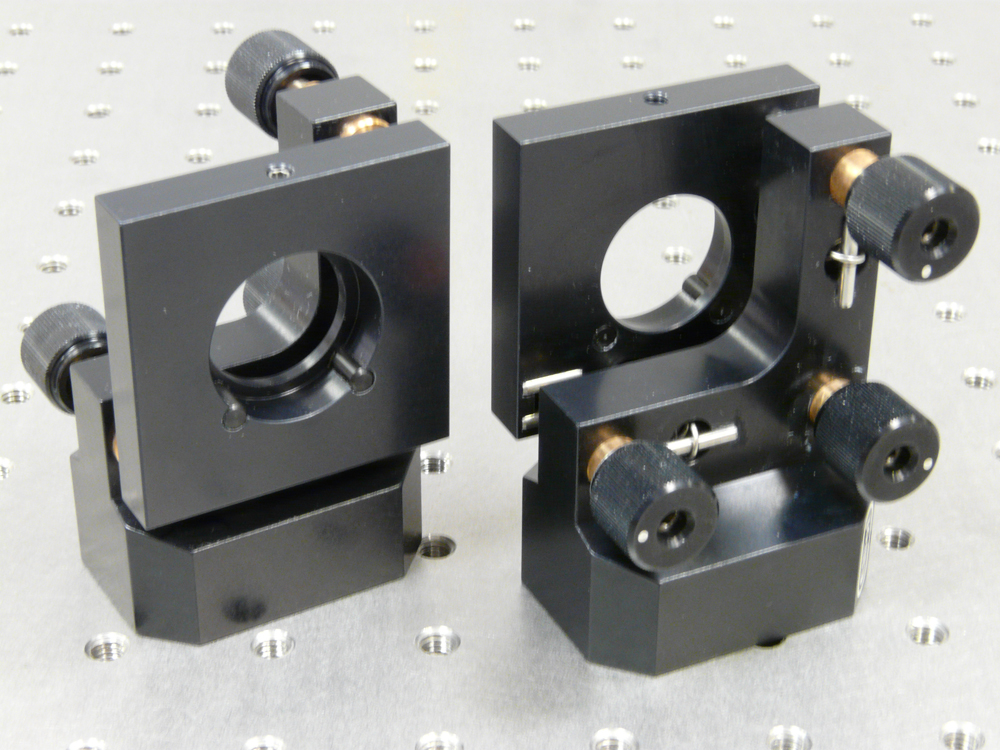 E901 L/H High Precision Mirror Mount viewed from the front, with a rear view of the E902 R/H High Precision Mirror Mount