Materials Characterisation Systems - Lake Shore
Fully integrated solutions for materials characterisation
Materials Characterisation Systems
Lake Shore Cryotronics offer a comprehensive range of fully integrated solutions for materials characterisation for measuring AC/DC Hall effect, magnetic and electronic properties, THz spectroscopy and more...
---
M91 FastHall™ Controller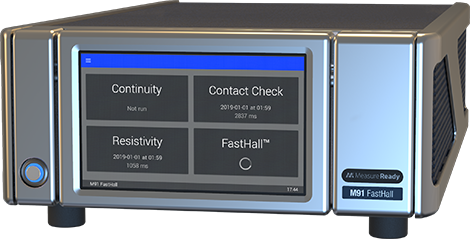 Lake Shore's new MeasureReady M91 FastHall™ controller is an advanced all-in-one instrument that delivers significantly higher levels of precision, speed, and convenience to researchers involved in the study of electronic materials.
The unique FastHall measurement technique fundamentally changes the way the Hall effect is generated and measured by eliminating the need to switch the polarity of the applied magnetic field during the measurement.
This patented breakthrough results in faster and more accurate measurements, especially when using high field superconducting magnets or when measuring very low mobility materials.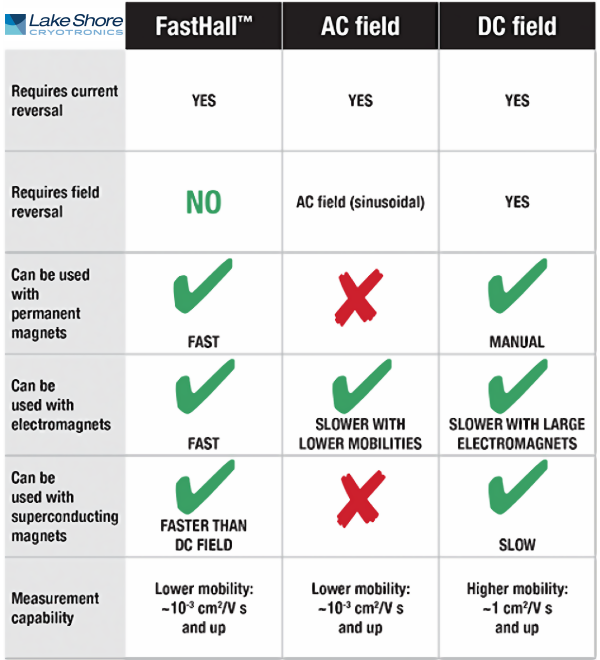 Designed to work with any magnet

Permanent magnets
Electromagnets
Superconducting magnets
Pulsed magnets (pulse ∆t ~100 µs)

Removes the need for field reversal
Ideal for measuring low mobility materials
Over 100x faster than previous systems
Manual or auto operation
Three year warranty as standard
Auto excitation values & measuring ranges
Digital and analogue I/O for easy integration
DC & AC field Hall measurements & analysis
10 MΩ to 200 GΩ sample measurement option
Mobility range extended to 0.001 cm2/V s, without using AC field techniques
Read more on how challenging material samples can now be analysed by the MeasureReady M91 FastHall™ controller in this interview between Rob Ellis, VP of Lake Shore's Strategic Planning and AZONano.
---
Hall Effect Measurement (HMS) Systems
Lake Shore's fully integrated Hall effect measurement systems (HMS) are used to characterise physical properties in semiconductors, as well as other electronic materials including magnetoresistors, multilayer magnetic films, dilute magnetic semiconductors, superconductors, and spintronics devices.
Available in two electromagnet-based configurations ranging in fields up to 2.37 T or a 9 T superconducting magnet-based configuration, Lake Shore HMS are ideally suited for the most demanding materials research applications, product development, and quality control. An assortment of options expands the functionality of Lake Shore HMS.
Model 8400 Series AC/DC Field Hall Effect Systems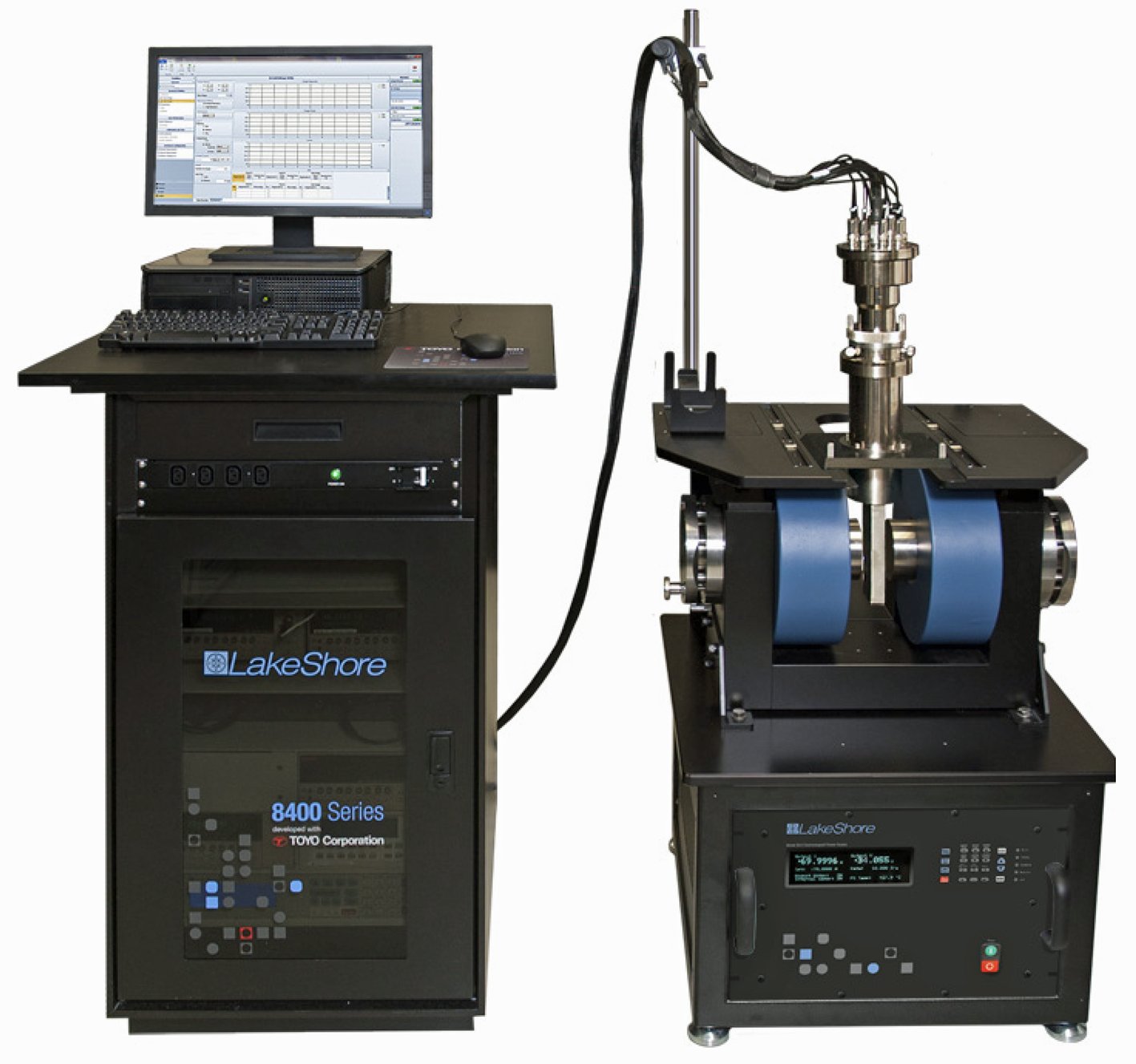 Green energy, efficient lighting, and high power device applications demand novel electronic and semiconductor materials: materials that possess electronic properties that are increasingly difficult to measure due to their low charge carrier mobilities and the high temperatures needed to characterise high powered devices.

The DC field measurement technique has usually been sufficient to measure materials with mobilities down to approximately 1 cm2/Vs. However, below this level it has been challenging to extract the small Hall voltage from the background noise that is produced by these emerging classes of photovoltaic, thermoelectric and organic electronic materials.
Lake Shore's 8400 Series Hall Effect Measurement Systems have an AC field Hall measurement option capable of measuring sample dependent mobilities down to 0.001 cm2/Vs, allowing you to measure most exotic materials with ease.

A catalogue is downloadable from the Documents tab above or, for more information that also include video demonstrations, visit the Lake Shore Blog.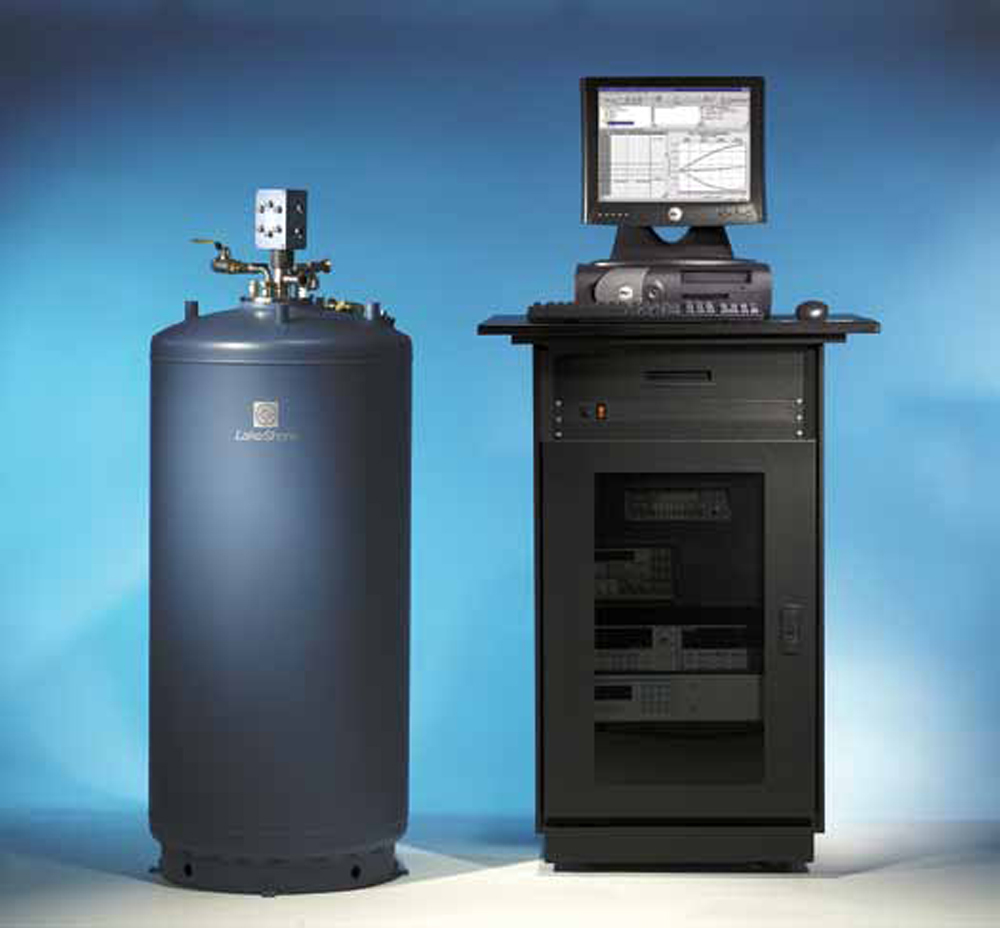 HMS systems feature hardware with electromagnet and superconducting magnet based platforms that can measure samples with resistances ranging from 10 µΩ to 200 GΩ, provide fields to 9 T, temperatures from 2 K to 800 K, accommodate samples up to 6" in diameter, or measure up to 4 consecutive samples without a hardware change. Full details of these products can be found in the HMS Catalogue downloadable from the Documents tab above.
Software features include Windows Explorer navigation interface, experiment profiles with multiple measurement steps and samples, complete details of every voltage measurement, predefined measurement sequences, offline data viewing, contact formation, and depletion layer corrections.
The HMS measurement capabilities include: Hall coefficient, Hall voltage, resistance, resistivity, magnetoresistance, I-V curves, carrier concentration and mobility. The HMS measures most compound semiconductor materials including pHEMTS, SiGe, SiC, InAs, InGaAs, InP, AlGaAs, HgCdTe, and ferrites; low resistance materials including metals, transparent oxides, dilute magnetic semiconductors, and TMR materials; and high resistance materials including semi-insulating GaAs and GaN, CdTe, and photodetectors.
Quantitative Mobility Spectrum Analysis (QMSA) software technique analyses variable magnetic field Hall data to resolve individual carrier mobilities and densities in multi-carrier devices. The QMSA software's reliability and sensitivity make it the ideal technique for routine characterisation of various multi-carrier materials and high mobility heterostructure devices. QMSA also has several advantages over previous conduction analysis techniques in that QMSA is fully automated, it does not require advance sample information, and it simultaneously provides individual carrier density and mobility (not an average over all the carriers).
Features
Standard sample resistance ranges from 0.04 mΩ to 200 GΩ
Fields to 9 Tesla
Temperatures from 2 K to 400 K
Measure up to 4 samples consecutively without a hardware change
Quantitative Mobility Spectrum Analysis (QMSA) resolves individual carrier mobilities and densities in multi-carrier devices
---
Magnetometer Systems
Lake Shore's fully integrated vibrating sample magnetometers (VSM) are used to characterise the DC magnetic properties of materials as a function of magnetic field, temperature, and time. Two model ranges are available, offering fields up to 3.26 T, Lake Shore VSM systems are the most sensitive electromagnet-based VSMs commercially available and feature the broadest temperature range capability: 4.2 K to 1,273 K (-269 °C to 1000 °C). These systems measure a wide range of sample types, making them ideal tools for the most demanding materials research applications and quality control of magnetic materials.
An assortment of options, including low temperature cryostats, a high temperature oven, a single stage variable temperature assembly, vector coils, autorotation, an MR probe, and a Helmholtz coil expand the functionality of Lake Shore VSM systems.
8600 series VSM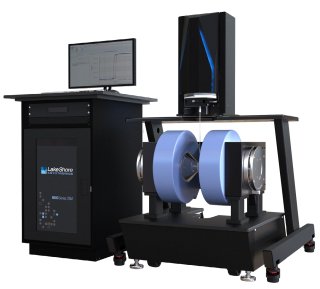 The new 8600 Series VSM raises the bar for magnetometer performance and convenience by combining high sensitivity, rapid measurement speeds, and ease of operation for faster and more accurate measurements: see this whitepaper for in-depth details.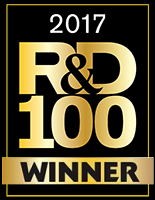 The entire 8600 Series system has been re-imagined with a focus on a clean, ergonomic design that simplifies the researcher's interaction with the system. For example, a motorised head brings the sample to a comfortable height for easy, one-handed exchange of the sample rods.
0.15 × 10-7 emu noise floor at 10 s/pt
10 ms/pt data acquisition rate
Up to 10,000 Oe/s field ramp rate
Rapid, repeatable temperature option exchange
High stability: ± 0.05% per day
Fields to 3.26 T
Widest available temperature range: 4.2 to 1273 K
Temperature options include a cryostat, high-temperature oven, and single stage variable temperature insert. The combined temperature range of the options is 4.2 to 1273 K, and all three options quickly slide into place and are auto-detected by the system's software.
Brad Dodrill, Lake Shore's VP of Sales and their Senior Scientist, discusses the components, features and versatility of the system, while also demonstrating the ease of operation and measurement speed in the video above.
---