Temperature Measurement & Control
World-leading Cryogenic & Precision Temperature Measurement...
Lake Shore Temperature Measurement & Control
Lake Shore Cryotronics leads the world in cryogenic and precision temperature measurement. Backed by more than thirty years of innovation and expertise and a 3-year warranty, Lake Shore's temperature equipment sets the standard for precision and accuracy across a wide range of applications and temperatures from near absolute zero to 1000 °C.
Temperature controllers provide precision temperature measurement and control for cryogenic and higher temperature applications; temperature monitors provide precise temperature measurement and display, and temperature transmitters provide a low-cost way to send temperature data to data acquisition locations in research and industrial settings.
A full line of standard and space-qualified cryogenic and temperature measurement accessories including sensors, cable, wire, solder, and insulating and conductive materials are available through Elliot Scientific.
Comprehensive catalogue available...

...Contact us for a copy

The Lake Shore Temperature and Measurement Control Catalogue features 200 pages of technical data, performance characteristics, and product descriptions.

Selection guides simplify choosing appropriate cryogenic sensor, instrument, and accessory solutions, while a comprehensive 65-page reference section includes an overview of thermometry, sensor application notes and installation instructions, common units and conversion tables, and cryogenic reference tables.

Silicon diodes
GaAlAs diodes
Platinum RTDs
Rhodium-iron RTDs
Cernox™ RTDs
Germanium RTDs

Carbon-Glass™ RTDs
Ruthenium oxide RTDs
Thermocouples
Capacitance
Cryogenic Hall
Temperature sensors are available in a variety of packages to facilitate mounting. They include adapters that allow the sensor to be soldered in place, screwed on, bolted down, inserted into a hole, or inserted through a pressure seal in the form of a thermo-well. Gold-plated copper bobbins are available for both diodes and resistors for the heat sinking of leads.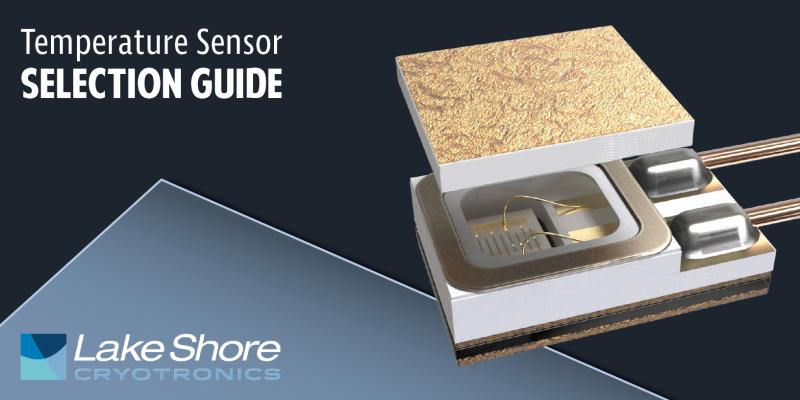 Lake Shore offer four types of sensor for cryogenic temperature measurement: diodes, resistors, capacitors and thermocouples. Each has its own particular features, so Elliot Scientific recommends contacting us to discuss your requirements and application, or downloading Lake Shore's "Temperature Sensor Selection Guide" from the Documents tab above.

Ask us about the new HR (High Reliability) Sensors, a family of off-the-shelf sensors that have already undergone extreme testing for mission-critical applications such as: Space telescopes and research satellites, supercolliders, fusion reactors, and maglev systems.
---
Lake Shore's new Model 372 AC Resistance Bridge/Temperature Controller has been designed for precise, accurate AC resistance measurements, and has a number of improvements over the Model 370 for greater accuracy when performing temperature measurements at very low temperatures.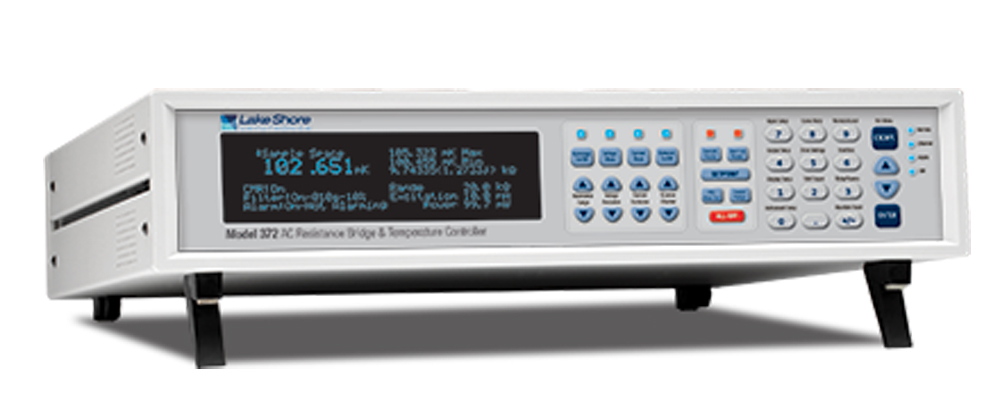 These improvements include the reduction of the input voltage noise figure from 33 nV/vHz down to 10 nV/vHz, the incorporation of new noise reduction features, and the reduction of the maximum DC bias current from 4 pA to 2 pA, resulting in a reduction of DC bias power to 0.4 aW (down from 1.6 aW).

To complement the new controller, Lake Shore are also introducing the Model 3726 scanner option designed for connecting up to 16 ultra-low temperature measurement points. With lower input noise and DC bias current, the new scanner takes full advantage of the performance improvements built into the Model 372 and offers superior performance to the previous generation.
---
Lake Shore's Model 350 is an ultra-low cryogenic temperature controller designed for the demands of pumped He-3 refrigerators, adiabatic demagnetization refrigerators (ADRs) and a number of other dilution refrigerators. A powerful physics tool, the Model 350 provides excellent measurement performance, superior control accuracy, and convenient operation in a wide range of advanced research applications.

The patented noise reduction input circuitry of the Model 350 is just one reason why this controller works so well for ultra-low temperature (ULT) applications, all the way down to 100 mK. When combined with precision Cernox sensors, this performance-optimised design allows as little as 10 nA of excitation current to be used, minimising self-heating effects, and ensures best possible measurement accuracy throughout the entire temperature range.

The instrument offers extraordinary capability and flexibility, often eliminating the need for additional instrumentation in a refrigeration control system. Its four input channels and four independent control outputs are configurable to support a broad range of I/O requirements, including the heaters and auxiliary devices typical of ULT refrigeration systems, as well as other cryogenic sensor types like ruthenium oxide and platinum RTDs. Standard computer interfaces enable remote communications, control and coordination with other systems.

* With optional Model 3062 4-channel card.

Ideal for use with He-3 systems and other ultra-low temperature refrigeration platforms down to 100 mK
Optimised performance with Cernox™ RTDs
Patented low-noise input circuitry enables super low excitation power for minimal self-heating and high resolution measurement
4 or 8* independent control loops and a broad range of I/O configurations can eliminate need for additional instrumentation
4 PID-controlled outputs: 75 W warm-up heater, 1 W sample heater, and 2 auxiliary 1 W ±10 V outputs
---
Lake Shore's Model 336 Temperature Controller is the only temperature controller available with 4 or 8* sensor inputs that can have custom labels, four control outputs and 150 W of low noise heater power. Two independent heater outputs providing 100 W and 50 W can be associated with any of the four sensor inputs and programmed for closed loop temperature control in proportional-integral-derivative (PID) mode. The improved autotuning feature of the Model 336 can be used to automatically collect PID parameters, so you spend less time tuning your controller and more time conducting experiments.

With standard Ethernet, USB, and IEEE-488 interfaces and an intuitive menu structure and logic, the Model 336 was designed with efficiency, reliable connectivity, and ease of use in mind. While you may need to leave your lab, Ethernet ensures you'll always be connected to your experiments. In many applications, the unparalleled feature set of the Model 336 allows you to replace several instruments with one, saving time, money and valuable laboratory space.

* With optional Model 3062 4-channel card.
---
Lake Shore's Model 335 Temperature Controller offers many user-configurable features and advanced functions that until now have been reserved for more expensive, high-end temperature controllers. It is the first two-channel temperature controller available with user configurable heater outputs delivering a total of 75 W of low noise heater power — 50 W and 25 W, or 75 W and 1 W.

Control outputs are equipped with both hardware and software features allowing you, and not your temperature controller, to easily control your experiments. Output one functions as a current output while output two can be configured in either current or voltage mode. With output two in voltage mode, it functions as a ±10 V analogue output while still providing 1 W of heater power and full closed loop proportional-integral derivative (PID) control capability with autotuning. Alarms and relays are included to help automate secondary control functions. The controller's zone tuning feature also allows you to measure and control temperatures seamlessly from 300 mK to over 1,500 K. This feature automatically switches temperature sensor inputs when your temperature range goes beyond the useable range of a given sensor.

USB and IEEE-488 interfaces, intuitive menu structure and logic promote efficiency and ease of use along with drop-in compatibility for the popular Model 331 and 332 temperature controllers through software emulation.

Sensor measurement performance matches Model 336
Field-installable thermocouple option
Two heater outputs configurable for 50 & 25 W or 75 & 1 W
USB and IEEE-488 interfaces
331/332 software emulation modes for compatibility
New keypad logic and menu structure
Improved auto-tuning
Ability to custom label sensor inputs
Auto switching sensor inputs for continuous measurement and control from 300 mK to 1505 K
---
Lakes Shore's Model 325 Dual-channel Cryogenic Temperature Controller is capable of supporting nearly any diode, RTD, or thermocouple temperature sensor. Two independent PID control loops with heater outputs of 25 W and 2 W are configured to drive either a 50 Ω or 25 Ω load for optimal cryocooler control flexibility. Designed with ease of use, functionality, and value in mind, the Model 325 is ideal for general-purpose laboratory and industrial temperature measurement and control applications.
---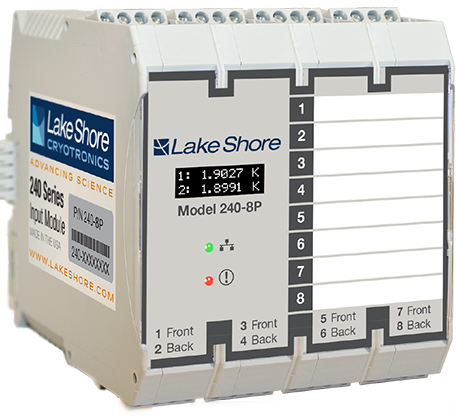 Lake Shore's 240 Series offers a convenient, modular input solution for precision monitoring of cryogenic temperature sensors in large-scale applications employing distributed PLC-based control.

Delivering the same precision temperature measurement performance as Lake Shore's trusted benchtop cryogenic instruments, widely distributed high energy applications like particle accelerators and fusion reactors as well as industrial sites will benefit from this new instrumentation.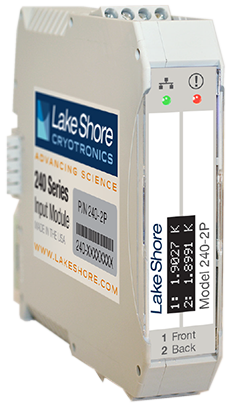 Features
Two or eight cryogenic temperature sensor inputs
Supports Cernox, platinum, and other RTDs, plus DT-670 diodes
Precision measurement in calibrated temperature units
Monitor temperatures in the range 1 to 800 K
Current reversal to minimise thermoelectric offsets
Front-mounted OLED screen
Fully configurable through USB connection
PROFIBUS-DP communication for PLC-based systems
DIN rail mounting
---

Lake Shore's Model 224 temperature monitor offers precision measurement in a wide range of cryogenic and higher-temperature applications with the ability to easily monitor up to 12 sensor channels. It provides better measurement performance in applications where researchers need to ensure accuracy and precision in their low cryogenic temperature monitoring.

Used with Lake Shore's Cernox™ sensors, the Model 224 enables reliable and repeatable temperature measurement over a broad range and as low as 300 mK.
---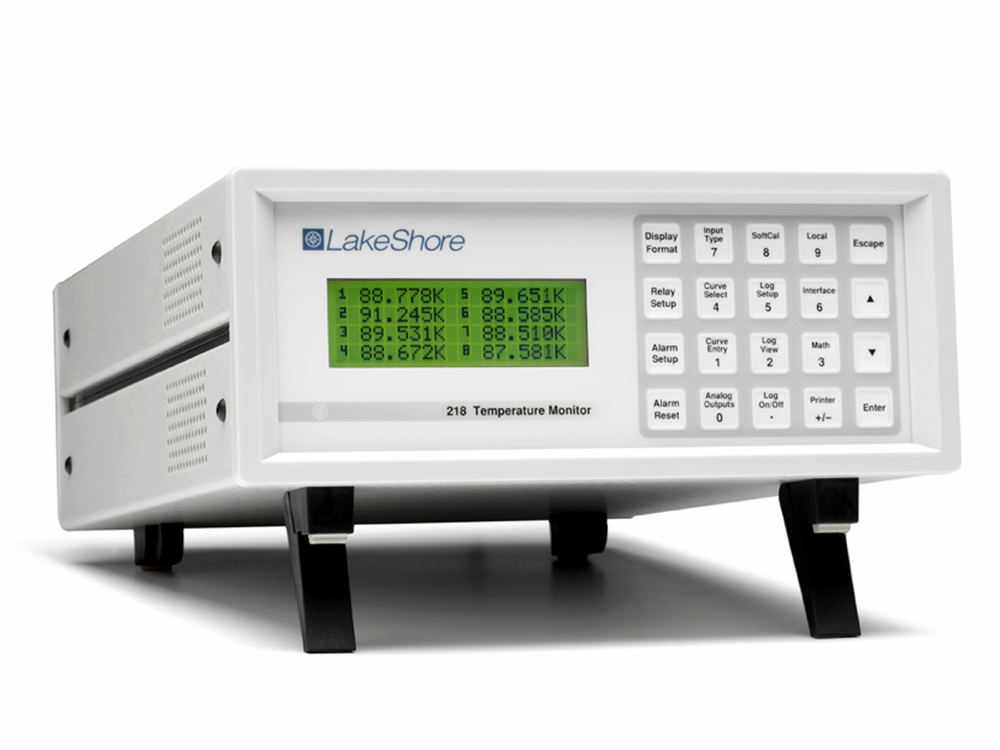 Lake Shore's Model 218 is a very versatile temperature monitor. With eight sensor inputs, it can be used with nearly any diode or resistive temperature sensor. It displays all eight channels continuously in K, °C, V or Ω. The measurement input was designed for the demands of cryogenic temperature measurement, however, the monitor's low noise, high resolution, and wide operating range make it ideal for noncryogenic applications as well.
---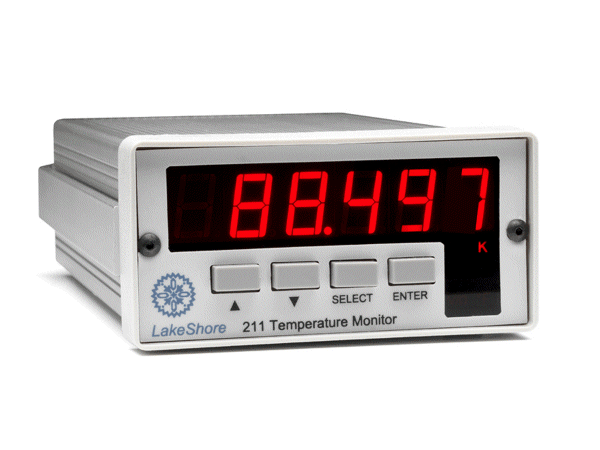 Lake Shore's Model 211 single-channel temperature monitor provides the accuracy, resolution, and interface features of a benchtop temperature monitor in an easy to use, easily integrated, compact instrument. With appropriate sensors, the Model 211 measures temperature from 1.4 K to 800 K including temperatures in high vacuum and magnetic fields. Alarms, relays, user-configurable analogue voltage or current output, and a serial interface are standard features on the Model 211. It is a good choice for liquefied gas storage and monitoring, cryopump control, cryo-cooler, and materials science applications, and for applications that require greater accuracy than thermocouples allow.
---
Showing 1 to 12 of 12 (1 Pages)