Magnetics Products - Lake Shore
Gaussmeters and Fluxmeters
Lake Shore Magnetic Instrumentation
Teslameters
Gaussmeters & Fluxmeter
Hall Probes & Sensors
Lake Shore Cryotronics offer a range of instruments for the scientific researcher or industrial quality controller working in the field of magnetics. These include: Gaussmeter and Teslameter instruments for measuring DC and AC magnetic fields, and controlling DC fields; Fluxmeters for measuring total flux, which are ideal for magnet testing and sorting, and as the main component in BH loop or hysteresisgraph measurement applications; and axial, transverse, multi-axis, gamma, and tangential Hall probes for measuring magnetic flux density.
---
TruZero™ technology
A typical Hall probe must be regularly placed in a zero gauss chamber in order to zero out offsets that develop over time and affect measurement accuracy.

Lake Shore's TruZero™ technology eliminates the need to perform these frequent zeroing operations via an onboard algorithm combines the sequential Hall voltage readings in a way that eliminates any offsets due to misalignment and thermoelectric effects.

This method also reduces flicker noise, meaning that readings are both more accurate and more precise.
---
Connectivity choices
Wi-Fi
Ethernet
USB
GPIB via an optional module
F41 & F71 Teslameters
The new F41 Single-axis and F71 Multi-axis teslameters from Lake Shore Cryotronics offer a new level of precision and convenience for engineers, QC technicians, and lab researchers. In conjunction with a new FP series of compatible Hall probes and 2Dex™ Hall sensors (Selection guide), users can measure with confidence in challenging applications.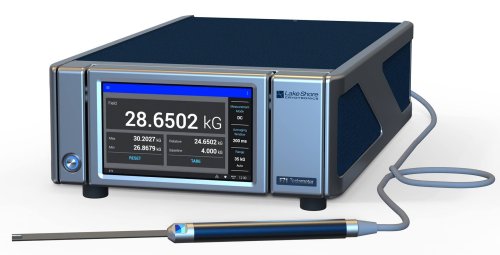 The F41 and F71 teslameters work equally well on a benchtop or in a rack. The TiltView™ display makes them easy to operate even when mounted in the bottom of a rack.
Probe swapping is now much faster due to a compact quick-release connector and integrated calibration data for all probes.
Features
TruZero™ technology minimises misalignment voltages and eliminates the need to re-zero a probe
Latest Hall sensors offer excellent sensitivity and are highly linear over a very wide field range
Uncluttered tiltable touchscreen interface that's instantly familiar to smartphone owners
First Look: F41 and F71 Teslameters - Video courtesy of Lake Shore Cryotronics
FP Series probes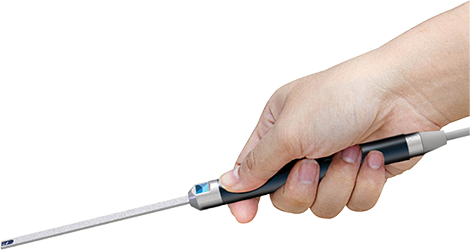 Lake Shore offers FP Series probes for every requirement, including 3-axis (vector), transverse, and axial models available in both handheld and mountable versions.

The smaller, ultra-thin active area on the new sensors ensure more accurate field readings and all but eliminates planar Hall effect errors that have caused measurement offsets in current-generation 3-axis probes.

The durable handheld probes are lightweight and comfortable to use, with an ergonomic handle design for more precise positioning. They provide the convenience of spot measurement, delivering a quick way to confirm field values where fixing is impractical or not required.

Mountable probes feature a flat machined aluminium surface with location holes for precise alignment. They are easily held in place with just two screws. Drawings and CAD models are available for OEM integrators. Custom designs can be engineered if the application requires it: please contact us for details.

The FP Series probes incorporate proprietary 2Dex™ Hall effect sensors that enable TruZero™ technology and also aid in measurement dependability. These next-generation magnetic field sensors for demanding scientific and industrial applications are highly linear over a very wide field range, inherently rugged, and operate over a wide range of temperatures.
Measuring Earth's magnetic field strength and orientation using the F71 and a 3-axis probe
Video courtesy of Brainiac75 on YouTube
---
Lake Shore's 400 Series of classic gaussmeters offer simple, high resolution flux density measurements, Over a hundred standard transverse and axial Hall probes and discrete sensors for use with these instruments are available.
---
Model 475 Gaussmeter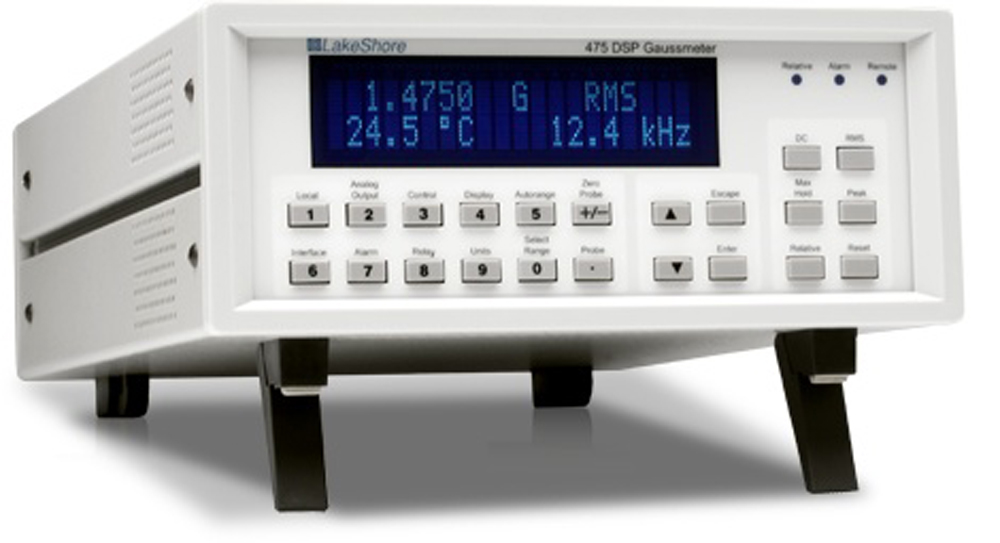 Field ranges from 35 mG to 350 kG
DC measurement resolution to 0.02 mG
Basic DC accuracy of ±0.05%
DC to 50 kHz frequency range
15 band-pass and 3 low-pass AC filters
Peak capture to 20 µs pulse widths
High speed sampling rates
Integrated electromagnet field control algorithm
Lake Shore combined the technical advantages of digital signal processing with over a decade of experience in precision magnetic field measurements to produce the first commercial digital signal processor (DSP) based Hall effect gaussmeter, the Model 475. DSP technology creates a solid foundation for accurate, stable, and repeatable field measurement while simultaneously enabling the gaussmeter to offer an unequaled set of useful measurement features. The Model 475 is intended for the most demanding DC and AC applications. In many cases it provides the functionality of two or more instruments in a field measurement system.
---
Model 425 Gaussmeter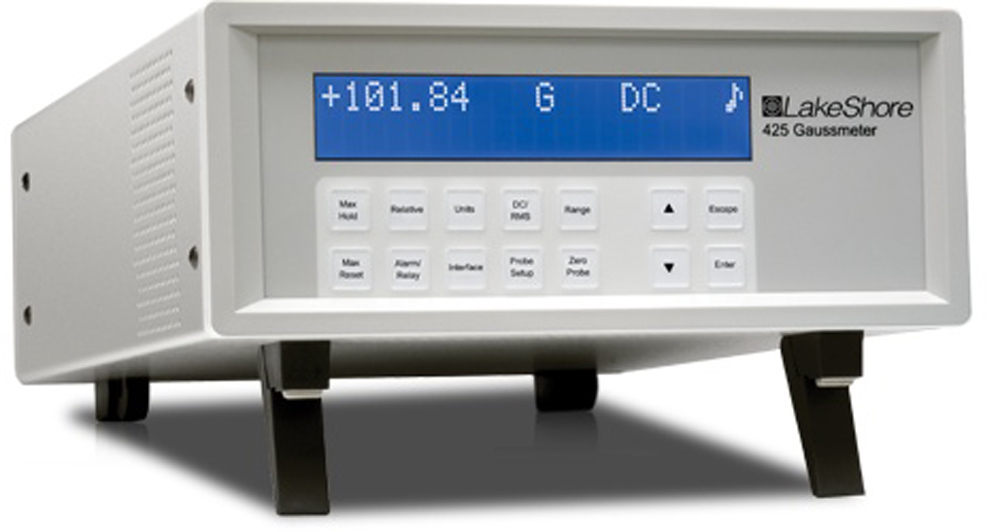 Field ranges from 350 mG to 350 kG
DC measurement resolution to 4¾ digits
Basic DC accuracy of ±0.20%
DC to 10 kHz AC frequency
USB interface
Large liquid crystal display
Sort function (displays pass/fail message)
Alarm with relay
Designed to meet the demanding needs of the permanent magnet industry, the Lake Shore Model 425 gaussmeter provides high end functionality and performance in an affordable desktop instrument. Magnet testing and sorting have never been easier when used in combination with the built in relay and audible alarm features to take the guesswork out of pass/fail criteria.

Additional features, including DC to 10 kHz AC frequency response plus max hold and relative measurement, make the Model 425 the ideal tool for manufacturing, quality control and R&D flux density measurement applications. For added functionality and value, the Model 425 also includes a standard Lake Shore Hall probe.
---
Model 480 Fluxmeter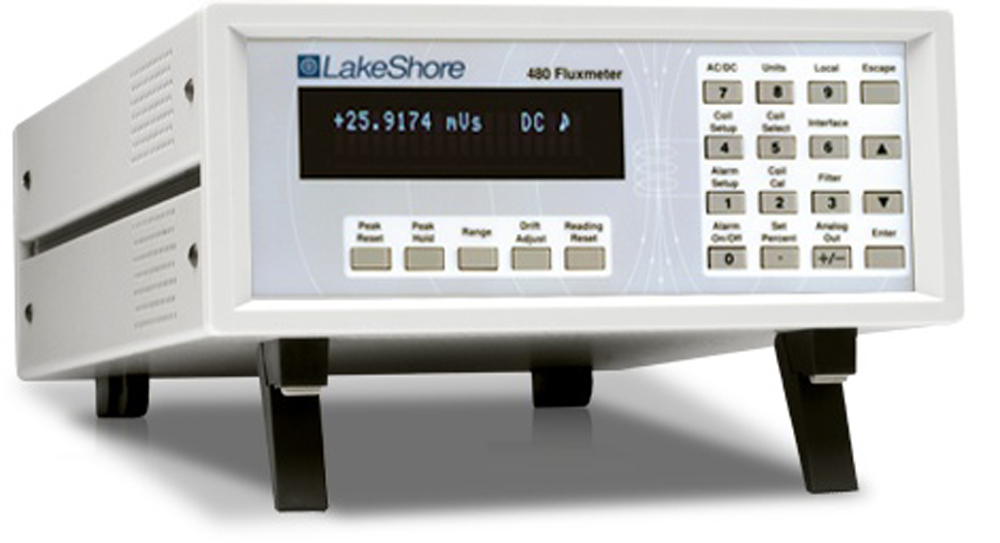 5¾ digit DC resolution
Automatic drift compensation
Very fast peak capture
AC frequency response to 50 kHz
IEEE-488 and serial interfaces
Storage of parameters for up to 10 existing coils
An advanced tool designed primarily for use in industrial and measurement systems settings, the Model 480 Fluxmeter measures total flux from which B, flux density, and/or H, magnetic field strength, can be determined. The Model 480 is valuable for magnetising, manual and automated magnet testing and sorting, and as the main component in BH loop or hysteresis measurement system applications. The Model 480 Fluxmeter is compatible with most sensing coils and fixtures.
---
| File Name | Size | Link |
| --- | --- | --- |
| LakeShore/2Dex-Hall-Sensors_249.pdf | 3.03 Mb | Download |
| LakeShore/425_249.pdf | 11.62 Mb | Download |
| LakeShore/475_249.pdf | 11.13 Mb | Download |
| LakeShore/480_249.pdf | 368.4 kb | Download |
| LakeShore/cryowire_249.pdf | 111.9 kb | Download |
| LakeShore/GaussmeterFamily-2018_249.pdf | 2.26 Mb | Download |
| LakeShore/ProductGuide2019_249.pdf | 3.36 Mb | Download |
Showing 1 to 7 of 7 (1 Pages)
First Look: F41 and F71 Teslameters - Video courtesy of Lake Shore Cryotronics
Measuring Earth's magnetic field strength and orientation using the F71 and a 3-axis probe
Video courtesy of Brainiac75 on YouTube