LDR Range - OptoSci Laser Driver Modules
Laser Current & TEC Control Modules
OptoSci LDR
The OptoSci LDR range of laser driver modules provide a versatile and user friendly platform for stable current and thermo-electric control (TEC) of laser diodes, SOAs, SLDs, 980 nm pump lasers and so on. The fully integrated digital Eurocard modules are designed for device characterisation, prototype development and experimental systems and offer easy device integration, full PC control and monitoring, or set & forget operation utilising the on-board EPROM.

A typical LDR module includes power supply, ZIF mount and heatsink for 14-pin butterfly package, USB interface and PC communications cable, and full V-DRIVE control software for easy operation straight out of the box.
Model
Description
ILD
(max mA)
ITEC
(max A)
Direct
Modulation
Common Device Suitability
LDR250GKE
250 mA Eurocard
grounded cathode
module
250
2.5
Y
SOA, SLED
LDR250GAE
250 mA Eurocard
grounded anode
module
250
2.5
Contact Us
DFB Laser, SLED
LDR1000E
1.0 A Eurocard module
1000
2.5
N
SOA, SLED
980 nm Pump Lasers
LDR1500E
1.5 A Eurocard module
1500
4
N
Raman Pump Lasers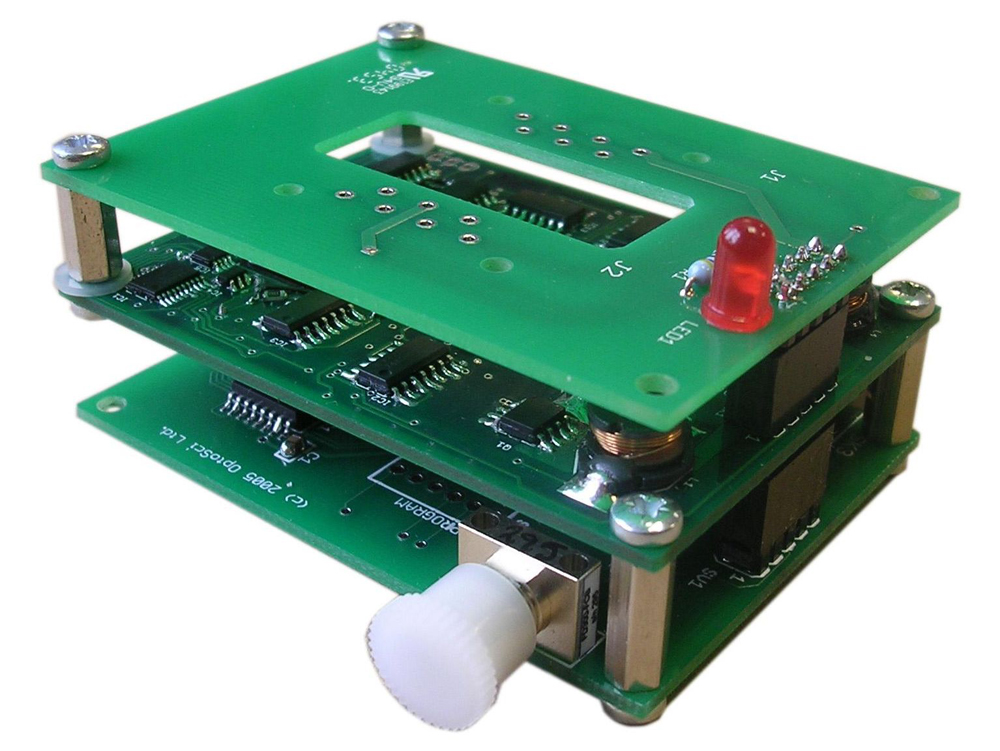 OptoSci's LDRS is a Small Form Factor OEM device driver with a stable, low noise 250 mA or 1.0 A current driver and TEC supplied in a credit card size, three board stack. It uses the same LDR core driver hardware and offers similar high specifications as the Eurocard evaluation modules (LDR250E and LDR1000E). LDRS is designed so that it can normally be readily integrated with your active devices (SLED, SOA, 980 nm Pump Lasers, DFB Laser Diodes, etc.) and a custom enclosure to enable you to provide value-added products to your customers rather than just supplying active devices.

The LDRS OEM board is supplied with the following items as standard: V-DRIVE OEM Software for setting device operating parameters, USB interface, Solder Mount for 14-pin butterfly packaged fibre coupled laser, SOA or similar device and an operators manual.
Range Features
Range Benefits
Range of driver modules available
Drivers suitable for a wide range of devices including: SOA, SLD, DFB laser diodes, 980 nm Pump Lasers, Raman Pump Lasers etc.

Precise and stable device current and temperature control
Integrated heatsink with demountable 14-pin Butterfly connectors
Easy device connection or changeover

Versatile and user friendly module with no requirement for separate expensive, external device plug-in mount and heatsink
Reconfigurable pin connections to device using on board wire jumpers
Straightforward for user to change the driver connections to suit other device pin out configurations

Single board solution for similarly packaged devices with different pin outs
Comprehensive driver software supplied
Allows full PC control and monitoring of device via USB interface

Supports constant current and constant power operation modes
Software includes a light-current­voltage (LIV) plotter
Allows direct device characterisation with test data readily available in csv format
Continuous traces of device drive parameters available on screen
Provides ongoing monitoring of drive current, forward voltage, device output power and TEC temperature
Driver includes on-board microcontroller
Allows remote setting of device drive parameters

Eliminates problems associated with manual setting of analogue potentiometers.
Device settings can be saved to driver EPROM
Allows set & forget operation with predefined parameters and no need for connection to a PC
Eurocard size unit
Compact size (160 x 100 x 50 mm [inc. mount]) Weight only 350g
Optional integrated photodiode
Allows active device to be configured for power monitoring or automatic power control
Integrated driver operational safety features
Smooth start / stop circuitry to protect active device

Current source shutdown with TEC temperature drift outside set parameters
High efficiency drive circuits
Minimises TEC driver power requirements

Only requires a wall mount DC power supply
OEM and Custom options are available
Contact us to discuss OEM versions of the driver and software or custom devices with different specifications or other features
---
A number of papers have been published by scientists around the globe who have used an OptoSci LDR laser driver module within their research. Here is an example: