International Distributors & Agents
Elliot Scientific has a number of authorised and trusted partners around the globe able to provide you with the local support and sales expertise to best serve your needs.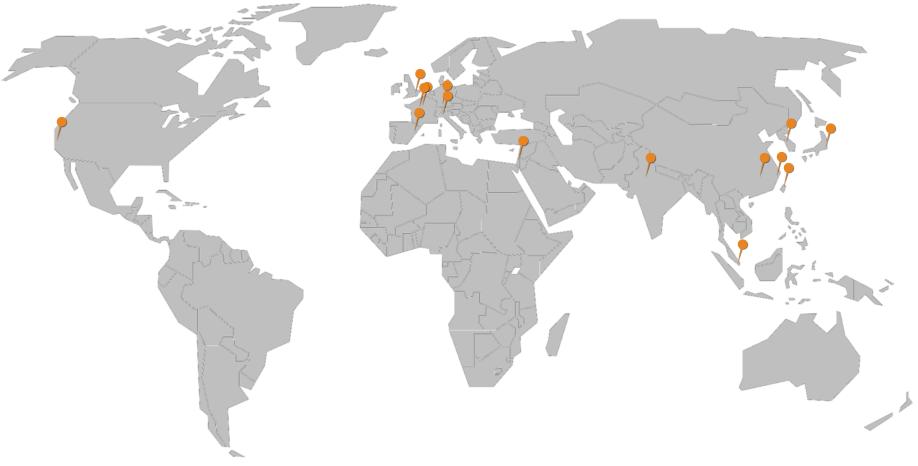 Are you a distributor interested in partnering with Elliot Scientific? Please contact us for details on how to join the Elliot Scientific network.
Europe & Middle East

France

Optoprim
21-23 rue Aristide Briand
92170 Vanves

Tel: +33 (0)141 906 180
Fax: +33 (0)141 906 189

Web: www.optoprim.com
Email: info@optoprim.com

Germany and DACH
Israel

Mountain Photonics GmbH
Albert-Einstein-Str. 18
D-86899 Landsberg am Lech

Tel: +49 0 8191 985199 0
Fax: +49 0 8191 985199 99

Web: www.mphotonics.de
Email: info@mphotonics.de

Rosh Electroptics
P.O.B 2667
Netanya 4212601

Tel: +972 9862 7401
Fax: +972 9861 6185

Web: www.roshelop.co.il
Email: info@roshelop.co.il

Italy
Spain

dB Electronic Instruments S.r.l.
Via Teano, 2
20161 Milano

Tel: +39 02 64 69 341
Fax: +39 02 64 56 632

Web: www.db-electronic.it
Email: sales@dblaser.it

TBC.

OptoSigma Europe

North America

USA
Canada

Contact Elliot Scientific Ltd or LightSpeed Technologies Inc

Lightspeed Technologies Inc.
P.O. Box 110161
Campbell
CA 95011-0161

Tel: +1 408 761 0062
Fax: +1 408 378 3629

Web: www.light-speed-tech.com
Email: sales@light-speed-tech.com




Asia

China (Standard Components)
China (Optical Tweezers)

ETSC Technologies ( for Elliot Martock stages)

湖北省武汉市东湖开发区高新大道999号
武汉未来科技城海外人才大楼B4座14楼(430206)

14 / F, Block B4, Overseas Talent Building
Wuhan Science and Technology City
999, High-tech Avenue, Donghu Development Zone
Wuhan City
Hubei Province
China (430206)

Tel: +86 27 87807177
Fax: +86 27 87807133

Web: www.etsc-tech.com
Email: sales@etsc-tech.com

Worldwide Technology (S.H) Co.,Ltd. (for Elliot laser optical tweezers)
WAD (H.K) Co.,Ltd.

上海市宝山区蕰川路6号智慧湾创意园B区蓝色1026室

Room 1026, Area B, Wisdom Bay Creative Garden
No.6, Chuan Chuan Road
Baoshan District
Shanghai

Tel: +86 21 66621556/7/8/9
Fax: +86 21 66621556/7/8/9*8048

Web: www.worldwide-china.com
Email: sales@worldwide-china.com

India
India

Aimil Ltd.
Naimex House
A-8, Mohan Cooperative Industrial Estate
Mathura Road
New Delhi - 110 04

Tel: +91 11 30810200
Fax: +91 11 26950011

Web: www.aimil.com
Email: riyazahmad@aimil.com

Specialise Products Pvt Ltd.
B-502 EKLVYA CHSL,
Plot #69 D/J/K, Sector 21,
KHARGHAR,
410210
Navi Mumbai,
Maharashtra

Tel: +91 9323192750

Web: www.specialiseproducts.com
Email: deepak@specialiseproducts.com

Japan
Singapore

Autex Inc.

東京都新宿区富久町16-5新宿高砂ビル4F

Takasago Bld 4F
16-5 Tomihisa-Cho
Shinjuku-Ku
Tokyo
162-0067

Tel: +81 3 3226 6321
Fax: +81 3 3226 6290

Web: www.autex-inc.co.jp
Email: sales31@autex-inc.co.jp

Precision Technologies Pte Ltd


211 Henderson Road
#13-02 Henderson Industrial Park
159552

Tel: +65 6273 4573
Fax: +65 6273 8898

Web: www.pretech.com.sg
Email: precision@pretech.com.sg
South Korea
Taiwan

Contact Elliot Scientific Ltd

Unice E-O Service Inc.

桃園市中壢區安東路5號

No.5, Andong Road
Chung Li Industrial Park
Chung Li City
Taoyuan County 32063

Tel: +886 3 462 6569
Fax: +886 3 462 5586

Web: www.unice.com.tw
Email: unicehq@unice.com.tw