Piezo & Motorised Adjusters (EM)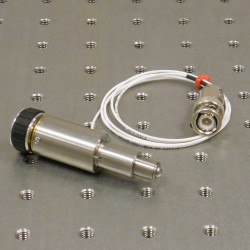 25 µm travel piezo adjuster
100 µm long travel piezo adjuster
200 µm very long travel adjuster
Motor driven adjuster: 8 mm travel
Accessories
Elliot Scientific offers several piezo adjusters for applications requiring greater resolution than that achievable manually. Where precision hands free operation or automation of the positioning system is required, our controller and flexure stage packages provide a highly robust and accurate solution. Piezo operation can be via an Elliot Scientific E1100 or other compatible 0-150 volt controller system. A motorised adjuster solution is also available for applications requiring lower resolution.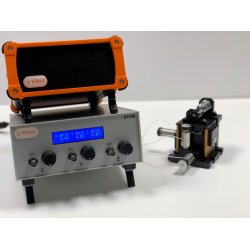 Automated Alignment Systems ES
7
DAli 4 automatic alignment system
2-axis control (3 axis Piezo control)
Standard or Long Travel piezos
Numerous alignment applications
Ideal for drift compensation
Elliot Scientific developed the DAli 4 two-axis piezo controller for automated photonic device alignment by piezo-driven flexure stage assemblies. DAli 4 facilitates the rapid and automated alignment of photonic components across a wide range of applications. For example, fibre to fibre or fibre to laser diodes or waveguides. The system has been designed to be compatible with a wide range of external optical detectors and piezo actuators, and can be operated in pairs for critical alignment tasks that require the simultaneous optimisation of two components to a third one.
Showing 1 to 4 of 4 (1 Pages)