Hyperchromator
High output tuneable light source
The Hyperchromator
An efficient high output tuneable light source utilising the high-brightness Energetiq EQ-99X LDLS™ Laser Driven Light Source and a specially designed monochromator has been developed by Mountain Photonics.
The Hyperchromator uses an off-axis parabolic mirror to focus the broadband light generated by the small plasma spot of the LDLS™ directly onto a diffraction grating, and then off a second mirror to an exit port.
As no entrance slit is used, the optical efficiency of the system is very high - typically f/1.5 or f/2, depending on the required resolution or throughput. A white light bypass output is also available.
The output port has been designed to allow for a multitude of illumination or light coupling options. By using standard catalogue components, the Hyperchromator can be easily integrated into an application.
Specifications
Optical input
Energetiq EQ-99X light source, coupled directly to the monochromator
Optical output, choose from...


SMA or FC/PC quartz fibres with 100-400 µm core diameter
Free-radiating with adjustable gap or
Other collimation options
Wavelength range
190-2500 nm*, 2 grids
Aperture
f/1.5 or f/2, depending on the required resolution or throughput
Bandwidth
1-10 nm FWHM*
Output
Up to 500 µW (at 6 nm FWHM, 400 µm fibre and blaze wavelength of the grating)
Repeatability
0.1 nm (Typical)
Scanning speed
40-100 nm/s*
Interface
USB/RS-232, LabVIEW™-based GUI
* Dependant on choice of grating and other variables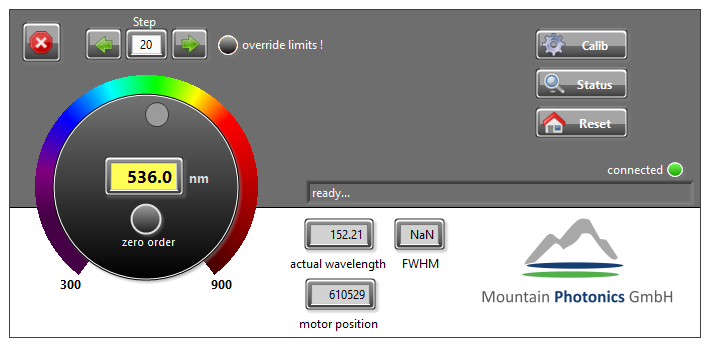 The Hyperchromator is controlled via USB/RS-232 and an intuitive GUI, with LabVIEW™ and other software libraries supported.
Existing owners of an Energetiq EQ-99X LDLS™ can add tuneability by purchasing the Hyperchromator unit alone. Please contact us for details
---