CryoLab Series
Plug-and-play cryogenic measurements
CryoLab Series
The CryoLab is a fully integrated desktop cryocooler system designed for rapid circuit or material characterisation measurements from ambient down to cryogenic temperatures in a fully automated manner. Doing measurements doesn't require any experience or know-how on cryogenics, vacuum technology or thermodynamics from the user, as demonstrated in the video below.
Features & Applications
Plug-and-play cooling platform
Fast, controlled temperature cycling
One system - various applications:

High temperature superconductors (HTS)
Thin films
Thermoelectrics - The Seebeck effect (video demo)
Resistance & Hall coefficient measurements by the van der Pauw Method
Optical sensors

No cryogenic fluids involved
Integrated pump option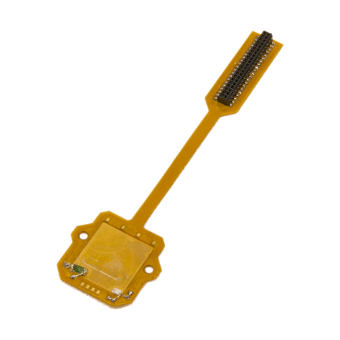 The test sample - maximum size 10 x 10 mm - is affixed to a guitar-shaped carrier (right) and up to 8 electrical connections can be made to it from integrated bonding/solder pads (more on request). These are routed through the CryoLab for connection to your preferred DAQ interface, or a CryoLab Breakout Box.
Although the DEMCON kryoz CryoLab can be fully operated as a stand-alone, the companion CryoVision software enables control of the system in more detail. All parameters can be seen at a glance, and switching between user-defined set-points and saved programs can be made. Data created can then exported.
A smartphone app - the CryoVision Monitor (below right) - is also available for remote tracking of your experiment.
Specifications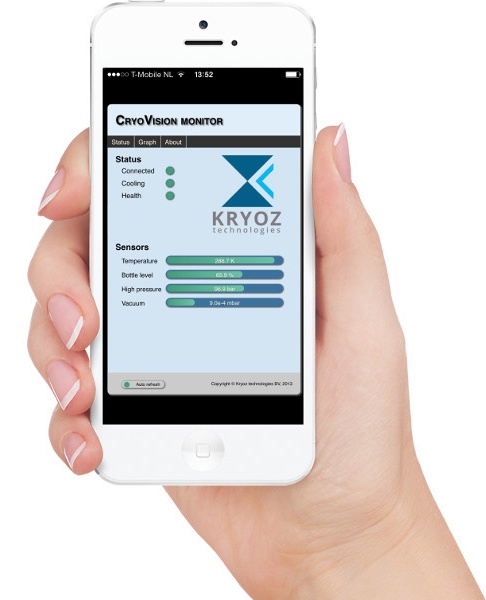 CryoLab Model
S
SP
MSG
Temperature range
90 to 373 °K
75 to 298 °K
Cooling power
100 mw at 95 °K
75 mw at 80 °K
Cool-down time (sample free)
25 minutes
30 minutes
Integral vacuum pump
No
Yes
No
Vacuum range (mbar)
10-3 to 10-5
Sample size/weight
Up to 10 mm x 10 mm, 1.5 g max
Sample voltage/current
Up to 10 V, 20 mA max
CryoLab is an elegant way to perform cryogenic measurements in a simple, fast, and controlled manner. Download the brochure from the Documents tab above, or use the Request Quote button below to contact us now for prices and availability.
---
Showing 1 to 1 of 1 (1 Pages)