E1100 Piezo Controller
3-channel amplifier for driving low voltage piezos
E1100 Piezo Controller
The E1100 Piezo Controller is an open loop, three channel amplifier suitable for driving low voltage (up to 150 V) piezo actuators and stacks. The E1100 has been especially designed to incorporate the latest technologies, and combines low noise and outstanding stability with a high power output.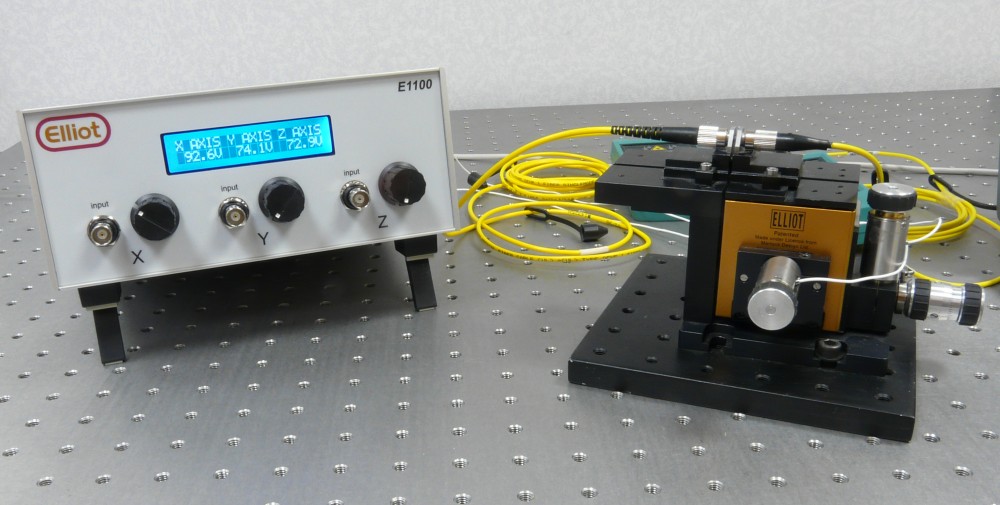 This makes it ideal for open loop, high resolution control of piezoelectric devices, in particular, the Elliot|Martock MDE123 and MDE125 Piezo-driven Flexure Stages.
E1100 Piezo Controller Features:
USB interface
Channels: 3 independent (XYZ)
Output voltage via BNC: 0 ~ 150 V
Output current: 50 mA/channel
Output noise: < 50 µVRMS
Output stability: <0.01% over 16 hours
Digital readout for each channel
Voltage control by BNC, potentiometer, or USB
Ext. input voltage control 0 ~ 10 V
Power requirements: 100-240 Vac 50/60 Hz
The E1100 is equipped with a front panel display and three methods per channel for input voltage control. These are:
High-resolution BNC inputs
Potentiometers
USB 2.0 interface
One or more of these methods can be employed, however all inputs are summed together to produce the 0-150 V output.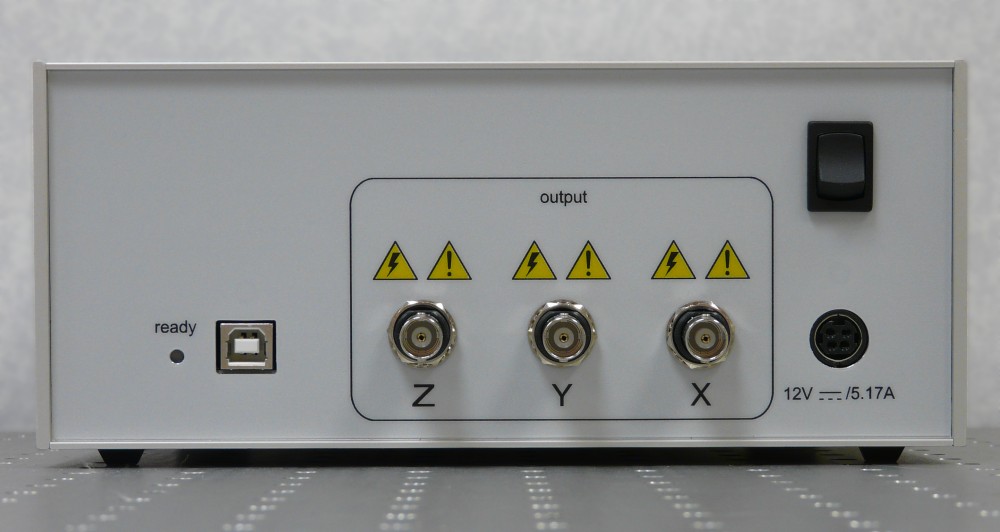 The rear panel features the Windows™-compatible USB port for 16-bit digital voltage commands. Software drivers, LabVIEW™ examples and tutorial, and C# graphic user interface are all included. LabVIEW™ and C# examples are open source and can be used as a starting point for homebrew routines. The rear panel also contains the three outputs as BNC connectors for interfacing to devices for precision motion applications.
Although designed mainly for benchtop use, a rack mount option is available.
A full technical specification can be downloaded from the Documents tab above.