Microscopy LED Light Sources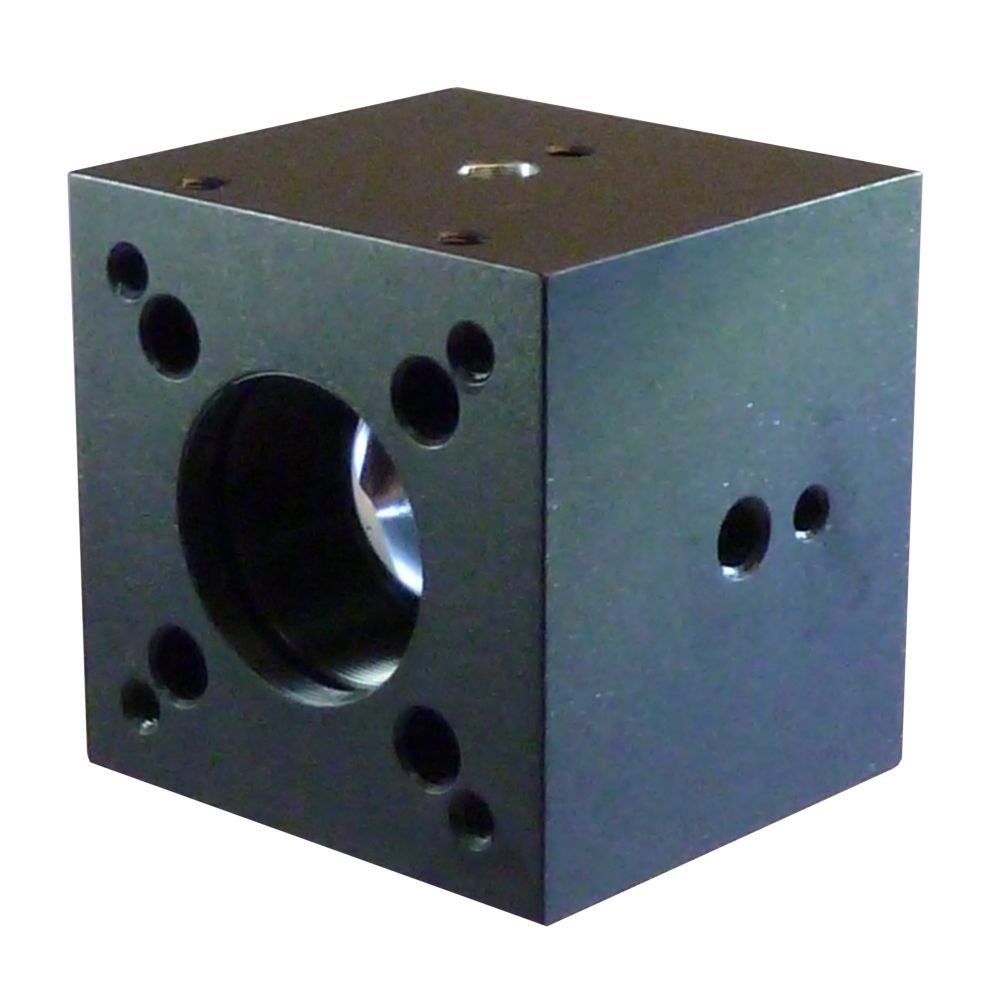 Microscopy LED Light Sources
Prizmatix Microscopy LED Light Sources
The Prizmatix Modular Microscope-LED and UHP-Series light sources, plus the new UHP-M system deliver affordable solutions for fluorescence excitation in upright and inverted fluorescence microscopes.
The modular systems features powerful interchangeable LED modules and beam combiners, while the UHP-M delivers bright UV and broadband white light from a single unit. Choose from dozens of wavelengths to combine up to three Mic-series Microscope LEDs into a single illumination system.
DuaLED Light Engine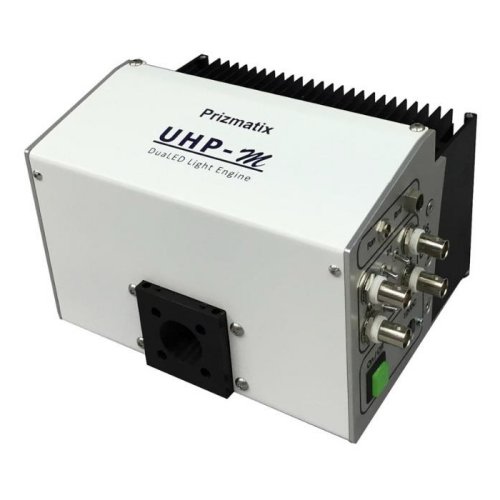 New UHP-M DuaLED Light Engine for UV-Visible
Prizmatix's self-contained UHP-M is an ultra-high power UV-Visible light source designed to replace Metal-Halide and Mercury lamp systems in many microscopy applications.
Incorporating two independently controllable Prizmatix large-chip LEDs, the UHP-M delivers broadband white from a single 55 W LED, and high power UV from a single 10 W LED operating at 365, 385 or 405 nm depending on model ordered. The UHP-M offers:
Optically isolated TTL & analogue inputs for each channel
Fast TTL switching
Low optical noise
Long life (no lamp replacement)
Fanless operation
Remote control*
USB interface*
* The UHP-M requires no external control if operating at full power. However, if power levels need to be adjusted, the optional remote control (right) or USB interface will be required.
Ultra High Power LEDs
UHP-T and UHP-F Series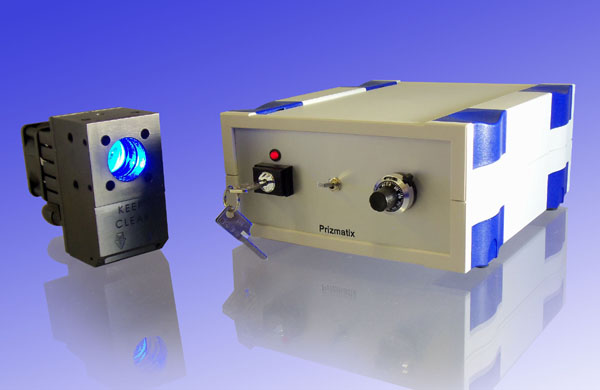 The Ultra High Power (UHP) LED series provide almost x10 increase of power in comparison with standard high-power LEDs. The UHP LEDs are an effective replacement of Mercury and Xenon lamps as well as lasers in many power-demanding applications such as fluorochrome activation in fluorescence microscopy and optogenetics, as well as chemical reaction activation, uncaging and others.
The UHP LED head features built-in adjustable aspheric collimator to provide a collimated beam suitable for direct connection to the epi-fluorescence port of a microscope, and it can be easily modified for fibre optic applications with a specially designed Fibre Coupler adaptor for high NA fibres. It is available for 6 wavelengths.
Further details of the UHP range can be found here: Prizmatix UHP Collimated LED Light Sources.
λ (nm)
365
►
375
►
385
►
390
►
395
►
400
►
405
►
410
►
415
►
420
►
425
►
430
►
435
►
440
►
445
►
455
►
460
►
470
►
475
►
480
►
500
►
515
►
520
►
530
►
535
►
550
►
595
►
630
►
640
►
670
►
740
►
760
►
810
►
830
►
940
►
White
►
Modular Mic-Series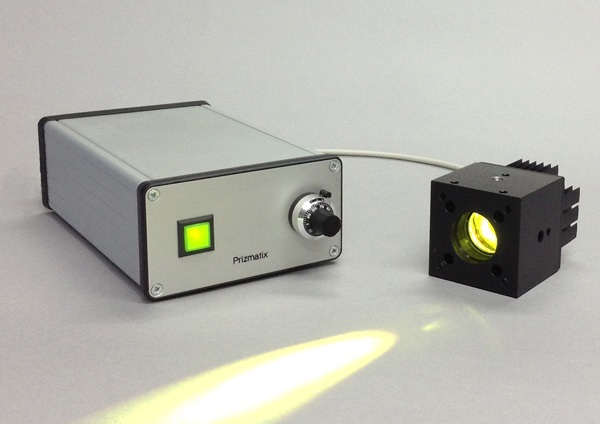 Microscope-LED
The basic Mic-LED provides a single wavelength fluorescence excitation and is operated with the BLCC-04 single-LED current controller. There are over 30 standard wavelengths to choose from, plus white. and other wavelengths on request.
This module serves as a building block unit for the Multi-LED system and can be expanded to Multi-LED at any time.
Microscope-Dual-LED
An economical solution for systems requiring two excitation wavelengths, the Dual-LED module combines the output of two Ultra High Power LEDs into a single beam via a dichroic combiner.
It can be operated from two separate BLCC-04 controllers.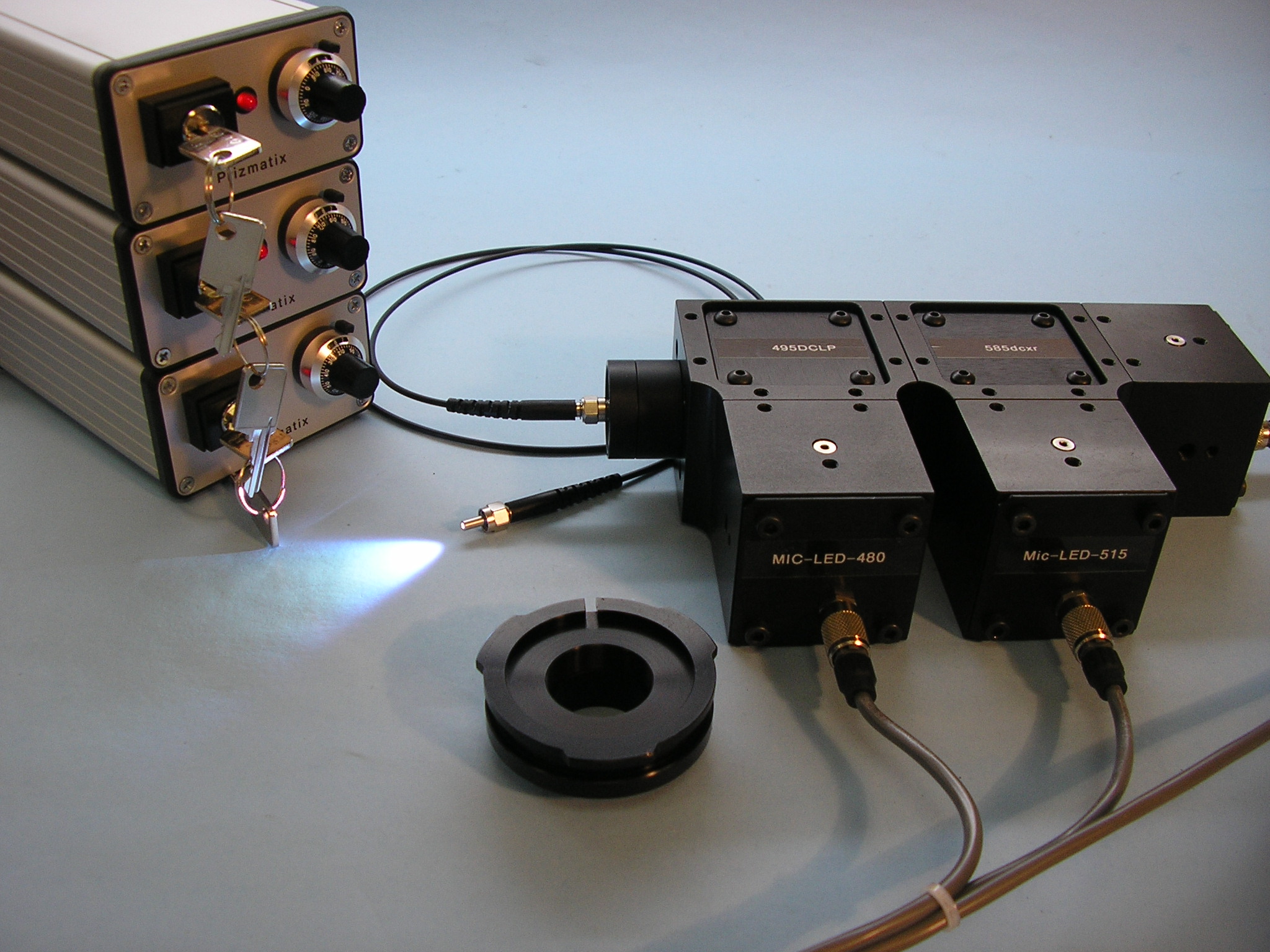 Microscope-Multi-LED
This configuration enables the output of up to three High Power LEDs to be combined into a single excitation beam to deliver maximum flexibility.
The Multi-LED system is assembled from several High Power LED (Mic-LED) and Beam Combiner modules, each of which are easily intechangeable.
Accessories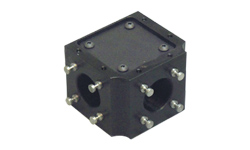 Beam Combiner
The Beam Combiner can join two discrete Mic-LEDs into one output beam, which can then be coupled to a microscope or an optical fibre. For increased versatility, additional optical filters can be installed at the input or the output ports of this modular Beam Combiner.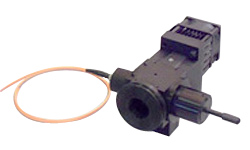 Beam Switcher
The Beam Switcher accessory enables Prizmatix LEDs to be installed on a microscope for use in epi-fluorescence, or as specimen illumination via a fibreoptic probe. The modular Beam Switcher saves cost, space and allows maximum flexibility in experiment design.
Fibre-Coupled Adaptor
The Mic-LED can be easily changed from direct microscope to a fibre-coupled LED configuration by using this modular system adapator. See fibre-coupled options.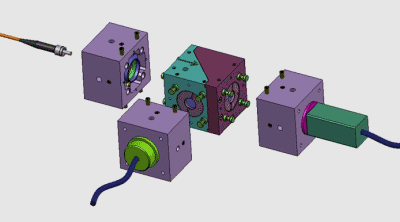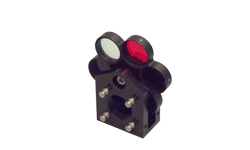 Filter Wheel
The Mic-LED can be equipped with a six-position filter wheel at the beam output.
Microscope Adaptors
A range of adaptors for connecting Prizmatix LED light sources to the epi-fluorescence ports of Nikon, Zeiss, Olympus, Leica and other widely used microscopes.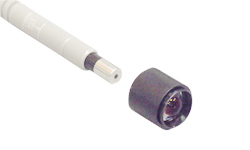 Liquid Light Guide Adaptor
The Mic-LED can be easily changed from direct microscope to Liquid Light Guide (LLG) coupling using this adaptor.
Liquid Light Guide
A flexible 3 mm core liquid light guide is ideal to conduct light from the large LED emitter to the microscope.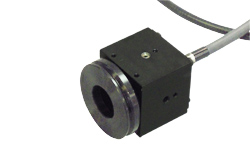 Liquid Light Guide XYZ Collimator
The Prizmatix LLG collimator is an XYZ adjustable collimator for Liquid Light Guide (LLG) with adaptor for the epi-illumination port of fluorescence microscopes. This collimator can be equipped with Nikon, Olympus, Zeiss or Leica adaptors.


Adaptors are available for Olympus, Zeiss, Nikon and Leica microscopes
Need eye protection?
---
Research papers
Hundreds of papers have been published by scientists around the globe who have used Prizmatix equipment within their research. They are listed here on the Prizmatix website.