Accurion Benchtop Vibration Isolation Systems
State-of-the-art compact active vibration isolation systems from Accurion
Halcyonics Benchtop Units: i4 & Nano
Accurion designs and manufactures advanced vibration reduction systems for today's exacting nanotechnologies. Whether it's high-resolution measurement or a high-precision manufacturing process, effective anti-vibration solutions are required to achieve maximum performance.
Active vibration isolation overcomes the limits of passive damping systems, enabling the attenuation of vibrations caused by machinery, people, traffic, even sound waves, that would disturb delicate instruments.
The systems detailed below are designed for small to medium sized applications light enough to sit on a typical table or benchtop.
i4 Series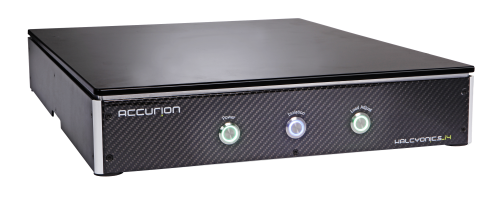 Applications
Scanning probe microscopy: AFM, SNOM, STM, etc
Inverse microscopy
Confocal scanning microscopy
Profilometers
Nanoindentation
Micromanipulation
Ultramicrotomes
Ultra-precise scales
High-end audio - such as turntables & CD players
The halcyonics_i4 is a state-of-the-art active vibration isolation system: ideal for isolating high-resolution measurement equipment from building vibrations and other disturbances.
The low-profile design belies its capabilities; which include automated locking for transport and fully automatic load adjustment. The latter ensures that it only takes a few seconds to start up the halcyonics_i4, with no adjustment or tuning necessary.
The halcyonics_i4 uses low voltage electromagnetic actuators for active vibration isolation in all six degrees of freedom, so no compressed air is required, and it is controlled by just three self explanatory buttons.
Specifications
Isolation in 6 axes
For loads up to 120 kg
Automatic load adjustment
Available in 3 sizes
Available with or without M6 threaded holes
Low voltage electromagnetic actuators
No compressed air required
Active vibration isolation from 0.6 Hz
Passive vibration isolation above 200 Hz
Settling time of under 300 ms
Excellent positional stability due to unit's inherent stiffness
No natural low frequency resonance, so excellent vibration characteristics below 5 Hz
2-year warranty
---
Nano Series

Applications
Scanning probe microscopy: AFM, SPM, etc
Langmuir–Blodgett (LB) troughs
Nanoparticle analysis
Ultra-precise scales
Combining the best in performance into a system with the smallest dimensions was one aim for Accurion's halcyonics Nano series. The other was an excellent cost-performance ratio. This was achieved with the Nano_20, the world's smallest active vibration isolation unit.
Designed for small and lightweight applications, for example - atomic force microscopy, the Nano_20 and the slightly larger Nano_30 are easy to set up and use as they do not require any tuning or load adjustment.
The active vibration isolation takes effect at 1 Hz and increases considerably from this frequency upwards. Above 15 Hz, halcyonics_nano systems achieve an isolation of 40 dB – which means that 99% of vibration is effectively isolated.
To maintain compactness and improve performance, the Halcyonics Nano series use external controllers. The major advantages of this arrangement for your application are:no heat is generated within the isolation unit, and any potential EMC interference from the control electronics is minimised.
Specifications
Isolation in 6 axes
Loads: 0-8 kg (Nano_20), 5-25 kg (Nano_30)
Automatic load adjustment
Ultra-compact: 204 x 69 x 204 mm WHD (Nano_20), 400 x 75 x 300 mm WHD (Nano_30)
Portable: Nano_20 is 5.6 kg, Nano_30 is 11.3 kg
Low voltage electromagnetic actuators
No compressed air required
Active vibration isolation from 1.0 Hz
Passive vibration isolation above 200 Hz
Fast settling time of 300 ms
Excellent positional stability due to unit's inherent stiffness
No natural low frequency resonance, so excellent vibration characteristics below 5 Hz
2-year warranty
---
A number of papers have been published by scientists around the globe who have used Halcyonics benchtop active vibration isolation systems within their research. Here are some examples:

Setting-up the Accurion i4 active vibration isolation platfrom

Isolating a reflected laser spot using the Accurion i4 active vibration isolation platfrom