OptiSource
Optical manufacturing specialists
OptiSource
Waveplate and Polariser specialist
Beamsplitters, Lenses, and Mirrors
Custom or OEM quantities
Consistent Quality with Competitive Pricing
OptiSource has over 120 years of combined experience in all facets of optical manufacturing. They offer an extensive range of high energy laser mirrors, beamsplitters, partial reflectors, antireflection and broad-band antireflection coated windows. A full catalogue can be downloaded from the Documents tab above. OptiSource have a large inventory of stock BK7 and Fused Silica components and can coat to your requirements in 1 week.
Polarising Optics
A strong emphasis on polarising optics means that Optisource are an excellent choice for waveplates, polarisers and rotators. Zero-order waveplates are available as an optically contacted, air-spaced, or glued assembly with ring mounting option. Low-order waveplates are available as an alternative to multipleorder waveplates when higher retardation stability is required.

General Waveplate Specifications

Standard Thickness Range
Transmitted Wavefront Distortion
Surface Quality
Parallelism
Clear Aperture
Retardation Tolerance
Damage Threshold
Material
Coating
Product Dependent
λ10 @ 632.8 nm over clear aperture
10-5 over clear aperture
0.5 arc seconds
85% of central dimension
λ/100 - λ/600 typical
1 MW/cm² (CW), 10 J/cm² 10 ns pulse
Synthetic Single Crystal Quartz
AR "V" Coat R < 0.25% per surface
BBAR Coat R avg < 0.50% per surface

Waveplates can be ordered mounted or unmounted.

Crystal Quartz Rotators are available for standard wavelengths in 45° or 90° rotation.

Calcite Polarisers are available in Glan Thompson, Glan Laser, Glan Taylor, Wollaston and Rochon configuration. Available in clear apertures of 8, 10, 12, 15, 17 and 20 mm.

Beamsplitter Cubes are offered in sizes from 5 to 50.8 mm for the spectral range of 248 ~1550 nm

Laser Mirrors: An extensive range of laser mirrors are available.

Materials
Standard Thickness Range
Surface Figure

Parallelism
Clear Aperture
Dimensional Tolerance
Chamfer
BK7, UVFS, Zerodur™
Product Dependent
λ10 @ 632.8 nm over clear aperture. (λ/20 for Zerodur™
5 arc minutes
85% of central dimension
Diameter/Length/Width +0.00 / -0.25 mm
Thickness: ± 0.25 mm Std.
0.350 mm x 45°
Please contact us with your optical requirements.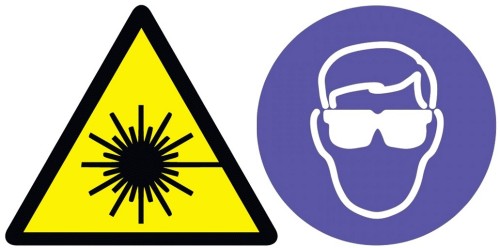 Need eye protection?
---
There are no downloads for this product.