T200S High sweep-speed tunable laser
Optical spectral characterization—rapid, reliable and repeatable

Accelerate lab to live for
next-gen photonics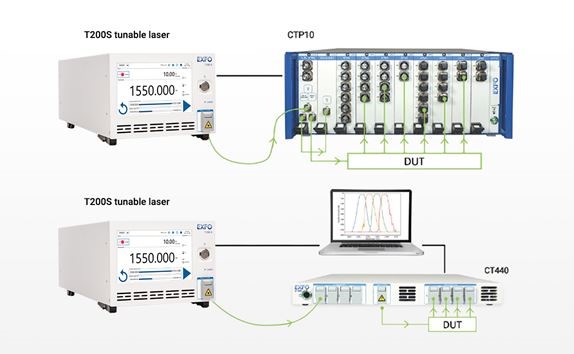 Industry leading features
10 dBm output power with high spectral purity: Laser exhibits a crystal-clear optical spectrum at a nominal optical output power of 10 dBm over the entire tuning range. Optical cavity eliminates broadband source spontaneous emission (SSE) without any compromise on optical power. High spectral purity is maintained throughout the laser sweep through active mode-hop control, ensuring reliable and repeatable wavelength sweeps.

High-speed tunability: Can be configured with a 200 nm/s scanning speed. When speed is critical, the T200S ensures repeatable yet fast measurements. Otherwise, the laser can be set to slower scanning speeds (e.g., for legacy detection systems).

Step-by-step or continuously swept wavelength scans: Two user modes at hand, optimized for specific usage: TUNE or SWEEP. With TUNE, laser control ensures excellent linewidth at any wavelength or provides rapid "go-to" wavelength tuning. SWEEP performs high-speed mode-hop-free scans over the full wavelength range of the laser.
A continuously tunable laser is an essential instrument in R&D labs and on production floors. It covers a variety of applications where rapid, continuous wavelength tuning is required. The T200S laser delivers speed and high power while sweeping, in addition to excellent linewidth at fixed wavelength.
The T200S is part of EXFO's series of continuously tunable lasers that include the T100S-HP, a tunable laser covering the wavelength range from 1240 to 1680 nm. Refer to the T100S-HP specification sheet for more details.

The half-rack configuration makes the T200S an attractive device for lab applications, with limited footprint. The screen can be adjusted to suit dark optical lab environments and display relevant information so that you can see them from the other side of the optical bench. A rackmount accessory is available to mount one or two lasers inside a 19-in rack bench. With control buttons situated at each screen corner, the laser can be operated without even looking at the screen.