DHM®-T Series Microscopes
Digital Holographic Microscopes configured for transmission
DHM®-T Series
Applications
Micro-optical characterisation
Microfluidic characterisation
Defect detection
Cellular research
Optional fluorescence module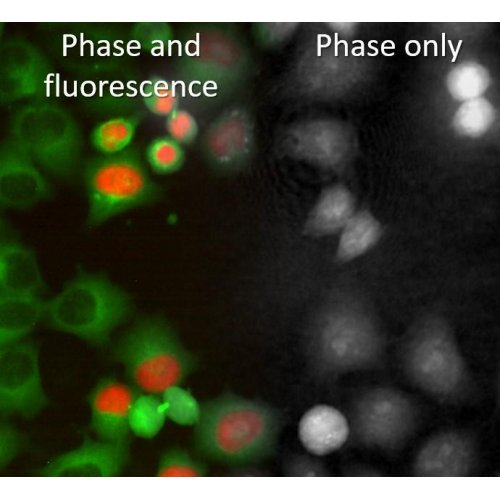 A quantitative phase image merged with fluorescence modality
[Green: Actin / Red: Histone]
The Lyncée Tec DHM®-T series of microscopes are designed to work on transparent or semi-transparent samples. The instruments measure the difference of optical light paths travelling through a specimen which makes it the best choice for cellular applications.
There are currently two basic configurations of the microscope: the single laser DHM® T-1000 and the twin-laser DHM® T-2100.
For life science the DHM®-T provides precise Quantitative Phase Measurements (QPM) of living cell cultures up to confluence, without the use of any contrast agent, and with very low illumination power. Thus the DHM®-T is an ideal instrument for high content screening, time lapse measurements and diagnostics.
Fluorescence module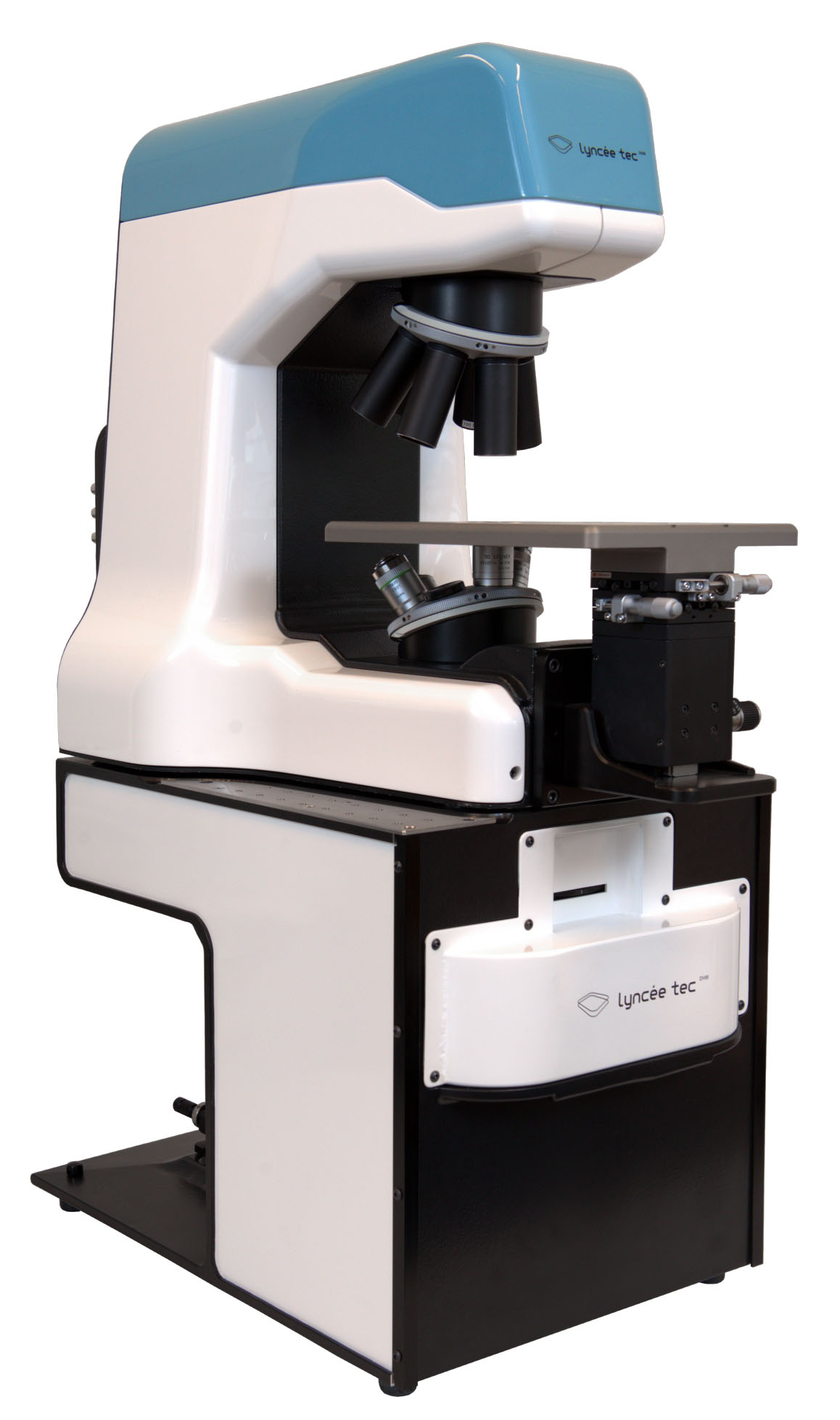 The DHM®-T can be equipped with a fluorescence module to enable simultaneous DHM® and fluorescence measurements. All on a single platform, and through the same objective lens, as custom filtering enables simultaneous interference-free operation of both systems. Video of epifluorescence characterisation can also be captured.
Various fluorescence light sources and cameras can be mounted, depending on your requirements, and the system is compatible with a range of motorised microscope stages and accessories for working with live cells.
For materials science the DHM®-T can measure sample shape and surface, material optical parameters, internal structure, and defects. It is an ideal tool for the characterisation of micro-optics, delivering shape, refractive index and the optical transfer function.
Refractive index liquids can be used for characterisation of steep slope samples like micro-corner cubes and Fresnel lenses among others. Typical applications include 3D-particle flow velocimetry and characterisation of microfluidics devices.
Options
The reflection DHM® instruments can be supplied with an optional stroboscopic module, and post-processing software for MEMS and Reflectometry analysis.
---
| File Name | Size | Link |
| --- | --- | --- |
| Lyncée Tec Bio Specimen Decoupling Application Note | 732.12KiB | Download |
| Lyncée Tec Cell Analysis Application Note | 1.03MiB | Download |
| Lyncée Tec Characterisation of Micro Optics Application Note | 980.47KiB | Download |
| Lyncée Tec DHM-T Datasheet 2020 | 1.06MiB | Download |
| Lyncée Tec Live Specimen Monitoring Application Note | 1.12MiB | Download |
| Lyncée Tec Stroboscopic Datasheet | 2.96MiB | Download |
| Lyncée Tec Use of Immersion Liquids Application Note | 1.02MiB | Download |
Showing 1 to 7 of 7 (1 Pages)
A number of papers have been published by scientists around the globe who have used a Lyncée Tec DHM® System within their research. Here are some examples: