MDE884LH - Fibre Array / Crystal Rotator, Long Reach, Left Hand
Fibre Array/Crystal Rotator, Long Reach, L/H
MDE884LH
θx fibre array / crystal manipulator
Rotates exactly on x-axis
Maintains 18 mm centre height
Right and Left handed versions available
θx ribbon cable / crystal manipulator (long reach). Unique roll mechanism ensures rotation is exactly about x-axis, and maintains 18 mm centre height. Right and left handed versions available. Can also be supplied with θy and θz adjustments.
The front block is machined by Elliot Scientific (or customer) to locate silicon V-groove block on the fibre (US: fiber) ribbon. Alternatively, it can be replaced by a device holder as shown in the photo below.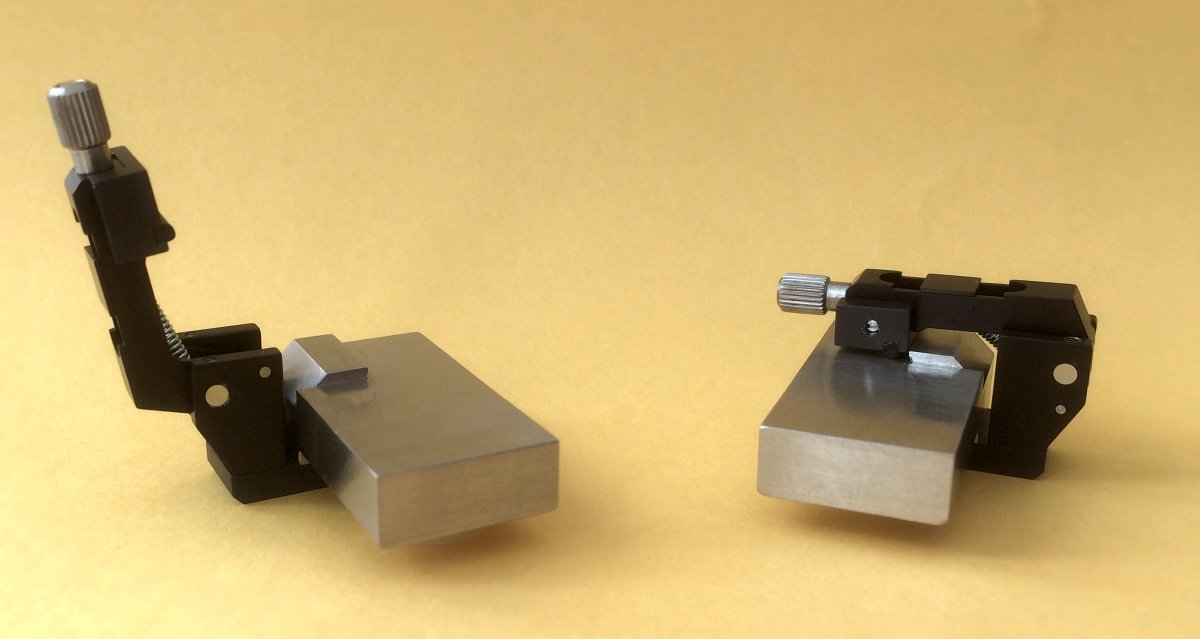 MD01/059 Left-hand and MD01/060 Right-hand Device Holders
These can been ordered as a replacement for the existing MDE884 front block
The unique mechanical roll design features a decoupling of the linear adjuster travel from the roll motion, which minimises any radial offset during rotation. This ensures that angular movements are exactly about the x-axis and that no radial offset is introduced. The precision of motion results in a very high level of accuracy of the roll angle.
Specifications
Configuration
Left hand
Centre Height
Maintained at 18 mm
θx Rotation
Coarse range
± 4°
Fine range
± 10 arc minutes
θx Resolution
Coarse adjustment
8 arc seconds
Fine adjustment
< 0.1 arc seconds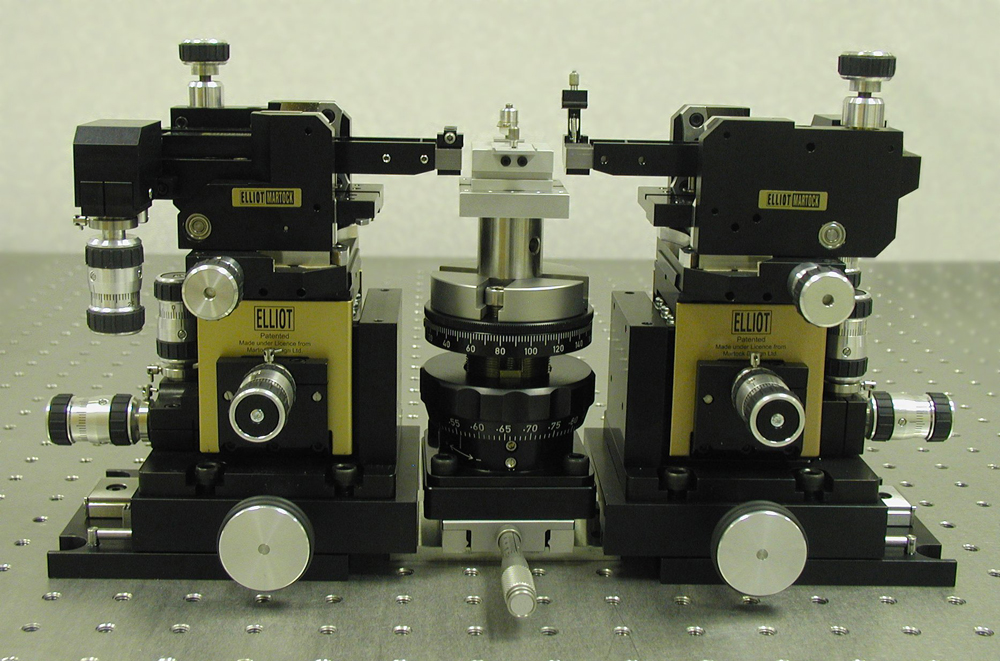 MDE885 L/H and R/H units incorporated into a waveguide alignment system
Further options
θy and θz versions
Inverted drive version if space is limited
A number of papers have been published by scientists around the globe who have used the Elliot|Martock MDE884 Fibre Array / Crystal Rotator within their research. Here are some examples: