Display Measurement Systems - Gamma Scientific
Capture luminance, contrast and colour
Display Measurement Systems
The GS-1200 Series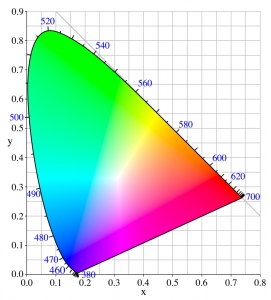 Gamma Scientific Display Measurement Systems can capture spectral measurements of a variety of display systems with high accuracy. Any application which demands sensitivity in the blue-light region, such as LED backlit displays, will benefit from the system's back-thinned CCD technology.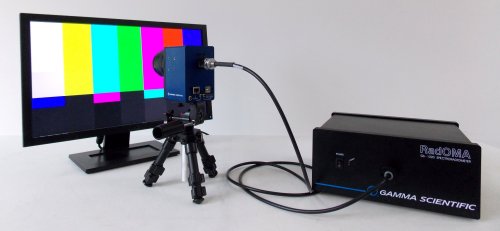 Gamma Scientific's Display Measurement systems are available in multiple models covering different spectral ranges and spectroradiometer configurations.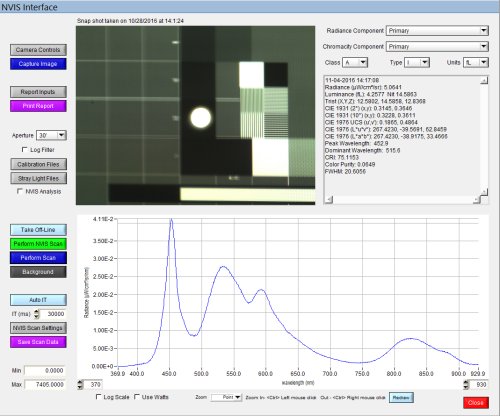 Based on the GS-1220 and GS-1290 instruments, the systems use interchangeable components for easy customisation and integration, while powerful spectral data acquisition and analysis software makes them ideal for calibrating any type of display:
LEDs, LCDs & Plasmas
Near eye systems
VR headsets
Video walls
Projection screens, HUDs
...and more
Applications

Manufacturing QC

Production line sampling
OEM display inspection
Calibrate any display



AV industry

Colour accuracy
White balance
Brightness / uniformity



Graphics

Colour accuracy
Colour profiling
True colour determination

Specifications*
GS-1290
GS-1220
Luminous Intensity (15 kcd max)
0.002 mcd
0.02 mcd
Resolution* (nm/pixel)
<0.60
<0.35
Spectral ranges (nm)
200-800
200-1100
360-940
250-900
360-900
360-1100
Measuring time
40 msec
40 msec
Viewing System
AVS or Reflex
AVS
Wavelength and colour accuracy
Yes
Yes
Near-real-time measurement
Yes
Yes
Low polarisation error
Yes
Yes
User-selectable half power bandwidth
Yes
Yes
USB interface
Yes
Yes
Windows™ control/analysis software
Yes
Yes
NIST-traceable accuracy
Yes
Yes
Self-calibration
Yes
Yes
* Full specifications can be found in the datasheet downloadable from the Documents tab above.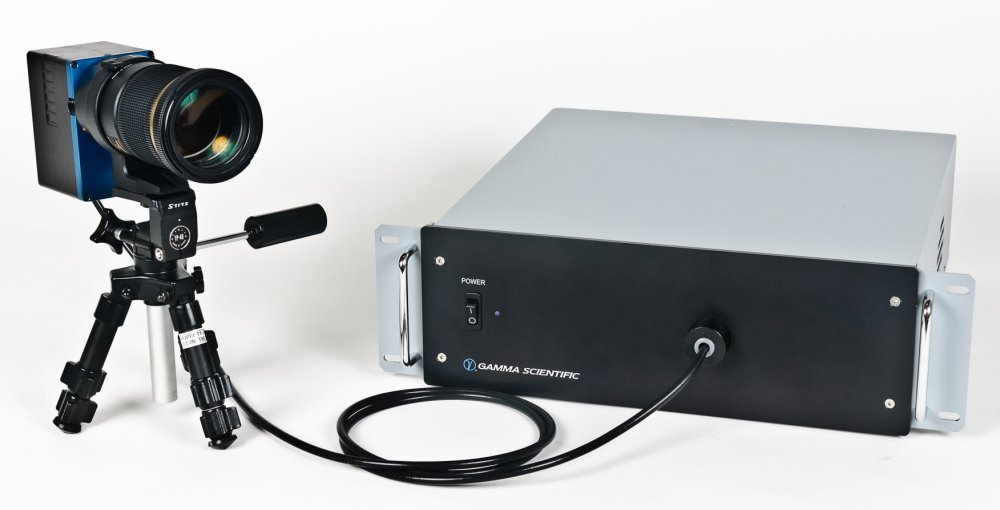 Gamma Scientific Display Measurement System GS-1220
2D Imaging Spectroradiometer - the VDU-1160 Series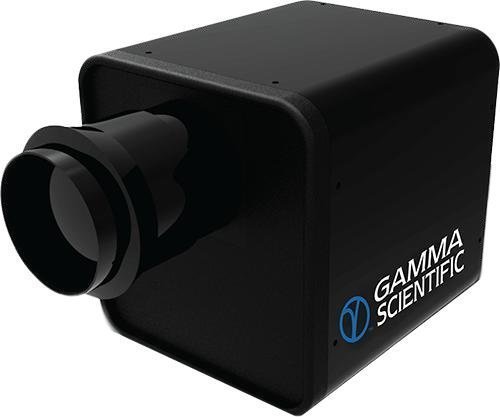 Gamma Scientific's latest instrument for test and characterisation of all types of LED, LCD, and OLED displays is the VDU-1160-16.
This 2D imaging colourimeter integrates an RGB CCD/CMOS camera with the field-proven GS-1160 spectroradiometer. The resulting system delivers rapid and highly accurate display measurements that include luminance, correlated colour temperature and CIE chromaticity.
The system uses no colour filters, so speed and accuracy is significantly improved. Exposure time, analogue gain and luminance threshold are user controlled, and makes the system ideal for laboratory measurements or the production line due to its accuracy, flexibility, and speed.
Spectroradiometers for display testing - the GS-1160 Series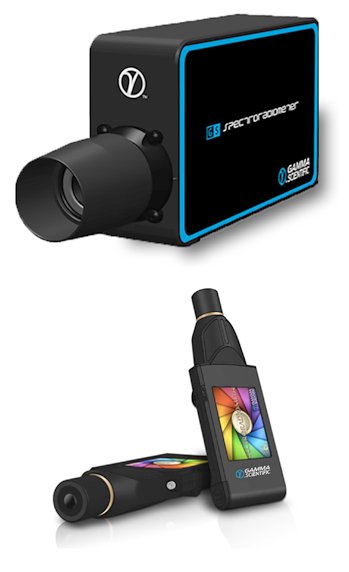 Gamma Scientific offer several instruments for colour, intensity and flicker testing of all types of LED, LCD, OLED and Quantum Dot screens.
The GS-1160 is the touchscreen-equipped handheld version, while the GS-1160B is designed for the bench and operates in conjunction with PC-based analysis software. The GS-1160 can also be used as a desktop system as it is supported by the same software.
These new spectroradiometers deliver faster results with repeatability superior to filter-based instruments. Measurement capabilities include Colour Chromaticity - both CIE 1931 and CIE 1976, Gamma, White Balance Adjustment, Contrast, Flicker (VESA & JEITA), and Uniformity. With luminance measurement ranges from 0.05 to 5000 cd/m² and fast millisecond integration times, the GS-1160 delivers a cost-effective superior performance.
Data is output on both via USB, or can also be stored on an SD card in the GS-1160 portable model. The GS-1160B can be programmed for custom testing as it has an Application Programming Interface (API). Commands can be sent via RS-232 or the USB.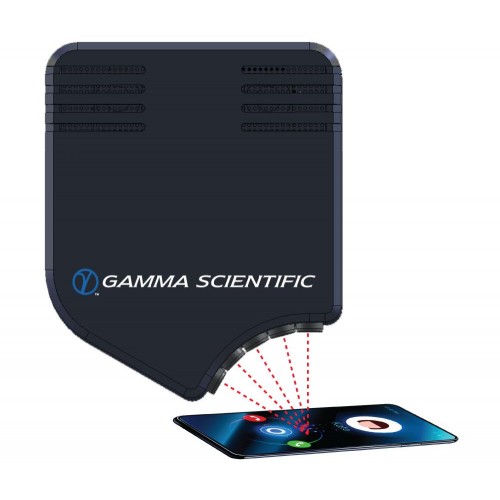 The GS-1164 multi-angle spectroradiometer is designed to simultaneously measure colour and luminance at four viewing angles at a fraction of the cost of traditional instruments.
The GS-1164's cutting-edge design eliminates filter-matching errors inherent in typical display colourimeters. By using four integrated spectrometers at 0°, 30°, 45°, and 60°, the unit offers shorter measurement times alongside high precision for dramatically improved throughput.
Today's high colour saturation and wide colour gamut OLED displays require accurate spectrally based measurement, and the system provides this without reference panel calibrations.
The measurement range is 0.05 to 5,000 cd/m2, and parameters covered include luminance, peak and dominant wavelength, spectral power distribution, CIE 1931 x,y, CIE 1976 u,v, CIE 1931 XYZ, and CCT. Interface options include RS-232 and USB, and the field-proven LightTouch uSpectrum software is included.
For detailed specifications and more information, please contact us.
Near Eye Display Test Systems: GS-E10 & GS-W20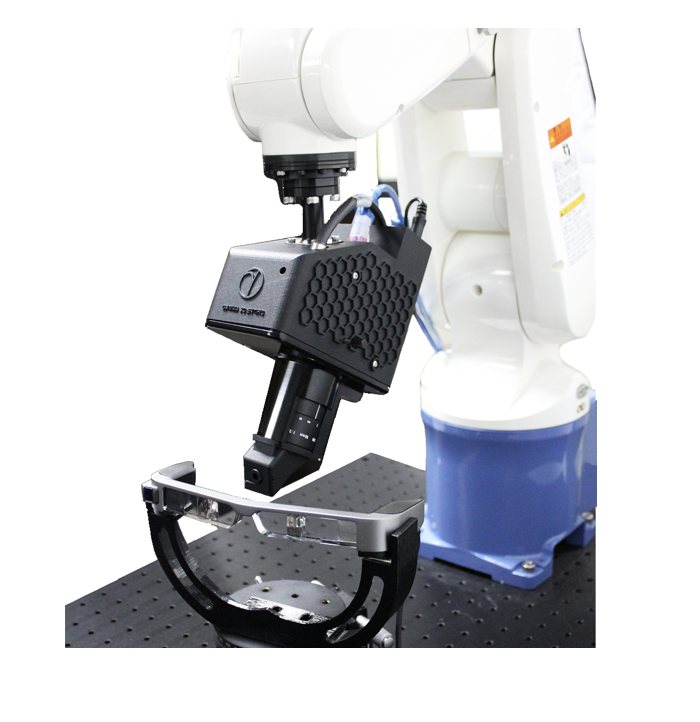 Gamma Scientific's award winning GS-E10 Near Eye Display measurement systems are designed to accurately capture spectral measurements of VR and Helmet mounted displays as viewed by the human eye, and the newly released GS-W20 can now characterise displays with a much wider field of view.
These types of display require precise measurement of light in the virtual image field of view, and these NED systems are the culmination of decades of experience in developing display and HUD test systems for military aviation.
Combining Gamma Scientific's trusted GS-1290 spectroradiometer with optics compact enough to fit within a test rig based on the dimensions of a typical adult human head, thus enabling easy measurements of the left and right eye's view for: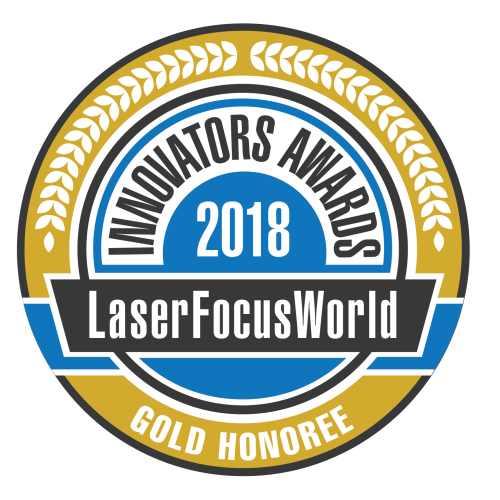 Luminance and colour uniformity
Symbology luminance and colour
Spectral transmittance
Left/Right eye parallax
Response time/flicker and MTF
Original system calibration is performed in Gamma Scientific's NVLAP accredited laboratory using NIST-traceable standards. Gamma Scientific spectroradiometers can be self-calibrated and do not have to be returned to the factory.
Gamma Scientific's GS-1290 NED automated test solution for VR and AR systems
---