Portable Spectroradiometers - Gamma Scientific
Ideal for the spectral evaluation of lamps and displays
GS-1160 Handheld Spectroradiometers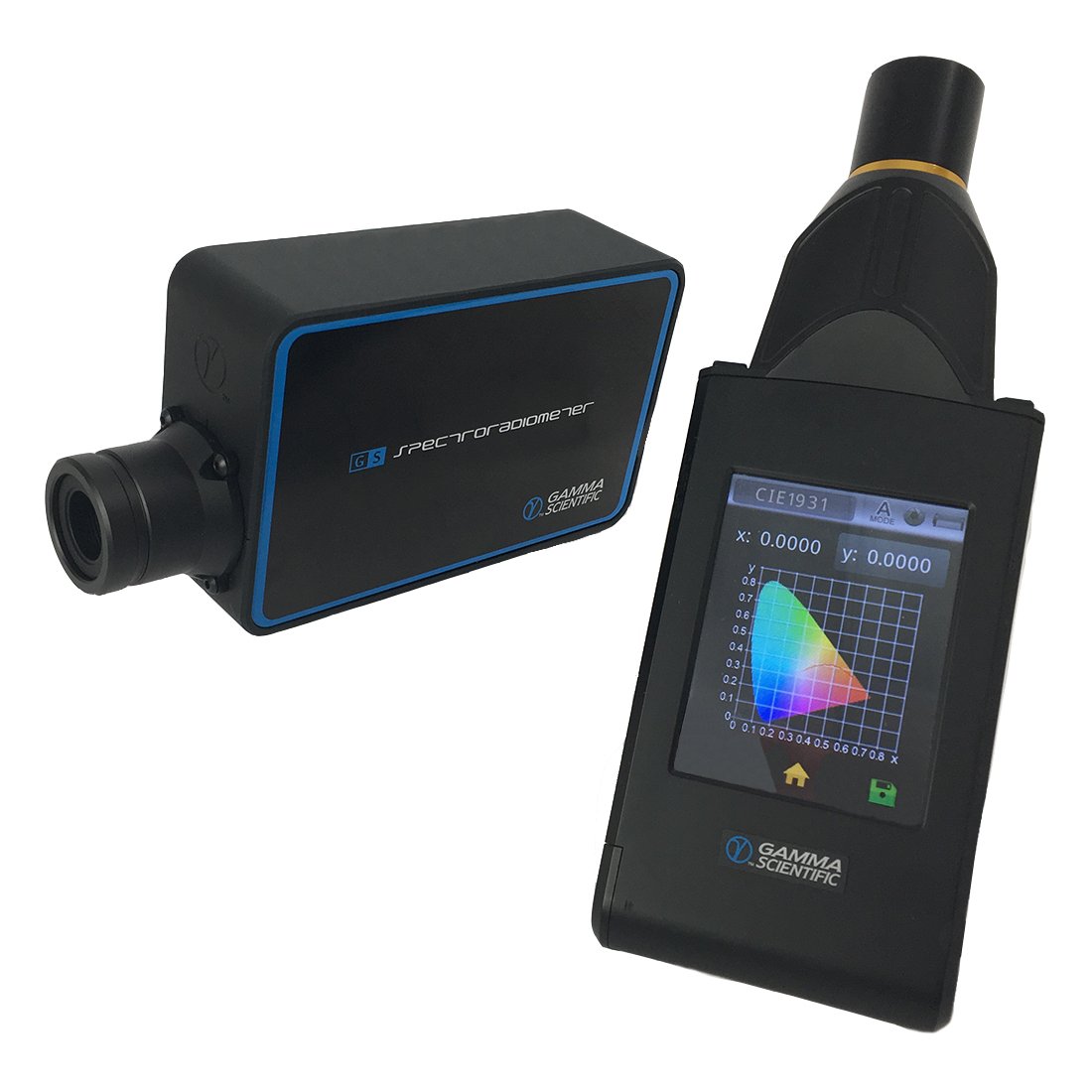 Gamma Scientific's new GS-1160 handheld spectroradiometers are stand-alone instruments designed for lighting installers, designers and engineers who require accurate, low cost spectral measurements such as:
Colour & Chromaticity
Gamma & White balance
Flicker & Uniformity
Luminance, CRI & Delta UV
Spectral power distribution
Peak & Dominant wavelength
Excitation purity
The handheld GS-1160 uses a CMOS linear image sensor, covering the wavelength range from 380 to 780 nm in 1 nm steps.
The instrument offers integration times from under 0.0001 to 5 seconds and delivers the spectral data via an onboard colour graphical display. This data can also be stored on an SD card, making it ideal for the portable spectral evaluation of LEDs, OLEDs and Quantum Dot displays.
The GS-1160B is the desktop version of the above. It features all the same measurement functions, but no display, and outputs the captured data via USB or RS-232 to a PC.
GS-1160 Series Spectroradiometer Specifications
Detector Type
CMOS linear image sensor
Measurement Range
0.05 to 5000 cd/m2
Wavelength Range
380 to 780 nm
Integration Time Range
0.0001 to 5 seconds
Capture Mode
Single/Continuous
Integrating Mode
Auto or Manual
Measuring Capabilities
Color Rendering Index (CRI)
Ra (Rendering Average)
Luminance (cd/m2)
Spectral Power Distribution (SPD mW/m2)
CIE Chromaticity co-ordinates
CIE 1931 x,y co-ordinates
Δx, Δy, Δu, Δv
Peak and Dominant Wavelength (λp & λd)
Correlated Color Temperature (CCT)
Scotopic & Photopic ratio (S/P)
Digital resolution
16 bits
Dark calibration
Auto
Stray light
-25 dB (max)
Wavelength data increment
1.0 nm
Wavelength reproducibility
± 1.0 nm
Luminance accuracy
± 2% to ± 4%
Colour accuracy
< ± 0.005 (CIE 1931)
Colour repeatability
± 0.002 max (2σ CIE 1931)
Battery model operation time
Up to 5 hours
Date Output Interface
mini-USB 2.0
---
Showing 1 to 1 of 1 (1 Pages)