Free Space Laser Module - OZ Optics
Ultra-stable laser in a compact housing
OZ Optics Free Space Laser Module
The OZ Optics OZ-5000 laser module is a temperature stabilised, free-space laser delivery system built within a compact housing. Numerous models and power levels are available, based on 23 standard wavelengths.
Features
Wavelengths: 23 models offer from 375 to 1625 nm with low RMS noise
Operational variation: ± 0.1 nm
Variable beam size: collimated or adjustable
Excellent beam pointing stability
Simple analogue/TTL interface. USB or other interfaces optional
A simple 5 Vdc supply is all that is required to power the module. Control is via the 9-pin port, with one pin supplying power to the unit; a second acting as an interlock, switching the laser on or off (A mechanical shutter is available as an option for additional safety); and a third offering electrical control of the output power by means of a variable voltage, where 0 V enables full power output and 5 V the minimum. This attenuation control can also be used to modulate the laser output at up to 100 kHz, while a special version is available with a modulation capability of up to 150 MHz. Full details and specifications can be found in the datasheet downloadable from the Documents tab above.
Applications
Confocal microscopy
Flow Cytometry
DNA Sequencing
Medical Imaging
Interferometry
Particle counting
Optical component manufacturing and testing
Materials evaluation and testing
Printing
Note: Wavelength accuracy and power output of these modules is dependent on diode chosen.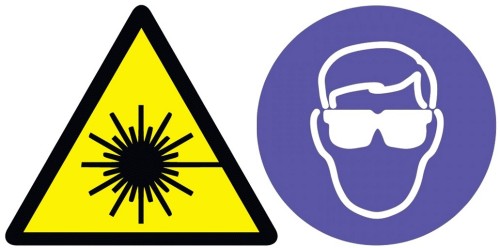 Need eye protection?
---