Handheld Test Equipment - OZ Optics
Hand-held Test Equipment
OZ Optics Meters, Sources and Fault Locators
OZ Optics is one of the leading fibre optic suppliers in the world, with an outstanding reputation as a manufacturer of quality components for use in telecommunications, laboratory, industrial, military and medical fields.

Originally developed for internal use, OZ Optics offer a varied range of hand-held test equipment products for use in telecom, lab and manufacturing scenarios. As many of the components used in these products are manufactured in-house, they are cost and performance competitive.
Optical Power Meters

POM-300 Series
The OZ Optics POM-300 series offer a high-resolution optical power meters with a wide dynamic range covering a broad spectrum of wavelengths. A user-friendly keypad and easy-to-read back-lit display makes it well suited to most user applications.

Extremely low power consumption allows extended operation in the field. Alternatively, the AC adaptor may be used, either directly, or to recharge the internal battery.

The POM-300 can accommodate a variety of standard, interchangeable screw-in receptacles. Power levels as high as +10 dBm or as low as -75 dBm can be easily measured, with the values displayed in watts or dBm.

Relative measurements can be displayed in dB. The wavelength can be selected in increments of 10 nm, or set to a specific value, within 1 nm.

Through the keypad and liquid crystal display, the user can configure various modes of operation and format the displayed measurements. Alternatively, using the RS232 serial interface, the POM-300 can be controlled by a host PC using a series of simple commands.




Wide dynamic range
Wide wavelength range
Interchangeable optical connectors available
Long battery lifetime - up to 300 hours
Powered by rechargeable battery or AC adaptor
RS-232 interface
Protective rubber boot
Built-in backlight
CE compliant

POM-400-IR
An Optical Power Meter calibrated for the infrared wavelengths of 1310, 1490 and 1550 nm, with a -60 to +3 dBm measurement range is also available which measures in Watts and dBm.

Includes FC/PC, ST/PC and SC/PC removable receptacles.

Polarisation Extinction Ratio Meter & Polarised Sources

OZ Optics has bundled its polarised sources, polarisation extinction ratio meters and master reference patchcords into one complete test set for rapid testing of the polarisation maintaining properties of optical components. We offer systems for testing devices terminated with connectors, andnow systems for testing the polarisation properties of V-Groove arrays.

For standard components, the extinction ratio measurement system includes a polarised source with a rotatable polariser, a polarisation extinctionratio meter, a quick connect adaptor for the extinction ratio meter, and a reference polarisation maintaining patchcord.

For V-Groove arrays, OZ Optics offers an OEM version of the polarisation measurement system. A manual operated type and semi-automated type.

The test set includes the polarised source with rotatable polariser, an OEM version of the extinction ratio meter with external optics, a V-Groove mount with a three axis position system, with one axis motorised for semi-automated type, a reference V-Groove array with a single PM fibre, and an application software package for semi-automated type. The user only has to supply a Windows based computer to operate the system as a semi-automated test bed.




Measures up to 40 dB extinction ratios (specific ranges)
Built in USB Communications Interface
Wide wavelength range:

400 to 1000 nm for visible range
850 to 1650 nm and 1800 to 2400 nm for IR

0.01 dB resolution in ER and 0.3° resolution in angle
Accuracy in ER is 1 dB, in angle is 0.5°
Measures up to 2 W CW input power
Rugged and compact design
Logging mode for continuous measurement
Interchangeable connector adaptors

Laser Diode Sources

OZ Optics produces fibre Optic Laser Diode Sources in a variety of wavelengths with a wide range of receptacle or pigtail sources. The latter offer the choice of polarisation maintaining (PM), single- or multi-mode fibre output.

The standard source provides continuous waveform output. It can also be pulse modulated internally at 270 Hz, 1 kHz and 2 kHz. As an option, OZ Optics can include a blocking-style optical attenuator to adjust the output power for the 01 and 11 models. This method of power control does not affect the spectral properties of the laser diode output. The 2N model allows the user to select one of four preset power levels via the keypad.

OZ Optics constructs the PM sources using fibers based on the PANDA structure. Other PM fibre structures or customer supplied fibre can be used. Contact us for further details.




Single or multi-wavelength sources available
Continuous wave (CW) and waveform modulation
Wide range of connector receptacles
Optional output power adjustment
Polarisation-maintaining, single- or multi-mode versions
Low battery indicator
Rugged and compact design
User selectable auto turn off mode

Visible Fibre Optic Fault Locator

The Visible fibre Optic Fault Locator launches either 520 or 635 nm visible laser diode light into the fibre. When light encounters a break or sharp bend, it scatters, and the scattered light can be observed emerging from the cable.

Fault locators can locate breaks in short patchcords, which an OTDR cannot detect due to their operating dead zone. A fault locator is also much less expensive than an OTDR. However, they are not recommended for use with dark-coloured or armoured cables.

Fault locators are available in several models, two benchtop and two portable. These are: Benchtop CW high power only or Benchtop Non-contact for CW and pulsed operation. Portable pen - CW only, and 'pocket size' that offers CW or pulsed output.

Pulse modulation aids in locating faults under high ambient light conditions and improves battery life. 2 Hz modulation is easy to detect with the naked eye, while 270 Hz and 2 kHz pulse modulation modes are used for fibre identification by detectors.




High visibility (up to 6 km with a 1 mW, 635 nm source)
Higher output up to 30 mW, 635 nm power versions
Continuous light or pulse modulation
Power supply options include batteries or AC/DC adaptor
1.25 and 2.5 mm ID universal connector receptacles
Pocket size, pen size and benchtop versions
Low battery indicator for pocket size version
532 nm green fault locator available
Optional built-in attenuator for controlling power output
User selectable auto turn off mode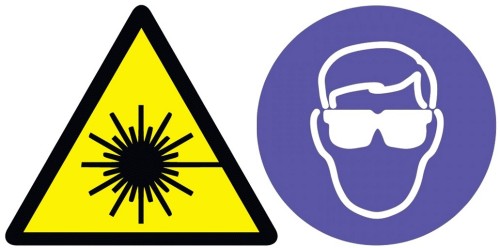 Need eye protection?
---